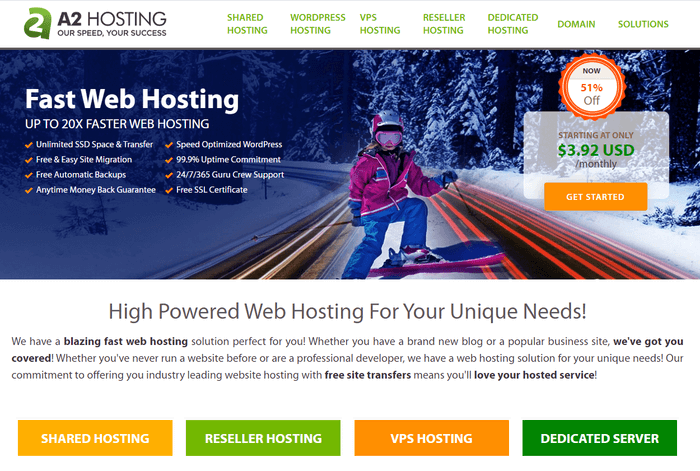 Services And Features
Hosting your content on the web is more important than ever, and it is best to work with a reliable hosting service. Built by a highly experienced UNIX Systems Admin, A2 supports a vast array of programming languages, APIs, content management tools, and servers to provide extensive options and customization opportunities for developers to build the best solutions that cater to all their needs.
A2 also supports various servers and distributions such as Apache, Nginx, Apache Cat, Zende Server, Linux, LAMP, Gentoo, Slackware, CentOS, Debian, Ubuntu Server, and Fedora. The hosting service also supports Subversion, Git for source control. With A2 Hosting, the possibilities are endless and are meant to make your life easier.
You can also register a new domain or transfer an existing domain to A2. If registering a new domain, A2 offer a wide selection of domain extensions to choose from. With A2, you can also register country-specific domain extensions so that your website is specific to your location.
For your website security, A2 Hosting supports Let's Encrypt SSL Certificate solutions to increase your visitor's trust which is issued within minutes. You can also purchase one of four SSL options to obtain ultimate website security; the Premium SSL for your business site, the wildcard SSL, a single certificate that protects all your subdomains, and the advanced SSL, designed for e-commerce.
Other services offered are hosting services that cater to blogs, CMS, CRM, e-commerce, forum, Linux, and wiki hosting.
Sign Up
You can get started with A2 Hosting by selecting the sort of service you would like to use. If your goal is to host a personal blog or website, you can quickly sign up for the shared hosting service that is WordPress, Drupal, and Joomla optimized. With shared hosting, you will have access to the turbo servers that are 20x faster, free, and easy to use for site migration.
The process you need to follow is pretty standard, you choose your domain option from registering a new one, transfer an existing one, point an existing one by updating your nameservers or using an existing subdomain. We'd like to note that if you want to register a new domain and your 1st choice is taken, their suggestions are not always available for you to register either. If you choose from their list the domain can then show as taken and you'll have to choose another.
On their order form you need to choose your term from 1, 12, 24 or 36 months. It can be a little confusing as there are plenty of additional options for you to consider. These include your server location (free), Turbo Web Hosting (the 20x faster they advertise at an additional $10/mo), website security and backup (both additional fees) and their website builder. It's important to highlight they offer a free version of their builder, but also 3 other levels of features so make sure you check this thoroughly. They range from Basic at an extra $6/mo to Enterprise at $16/mo.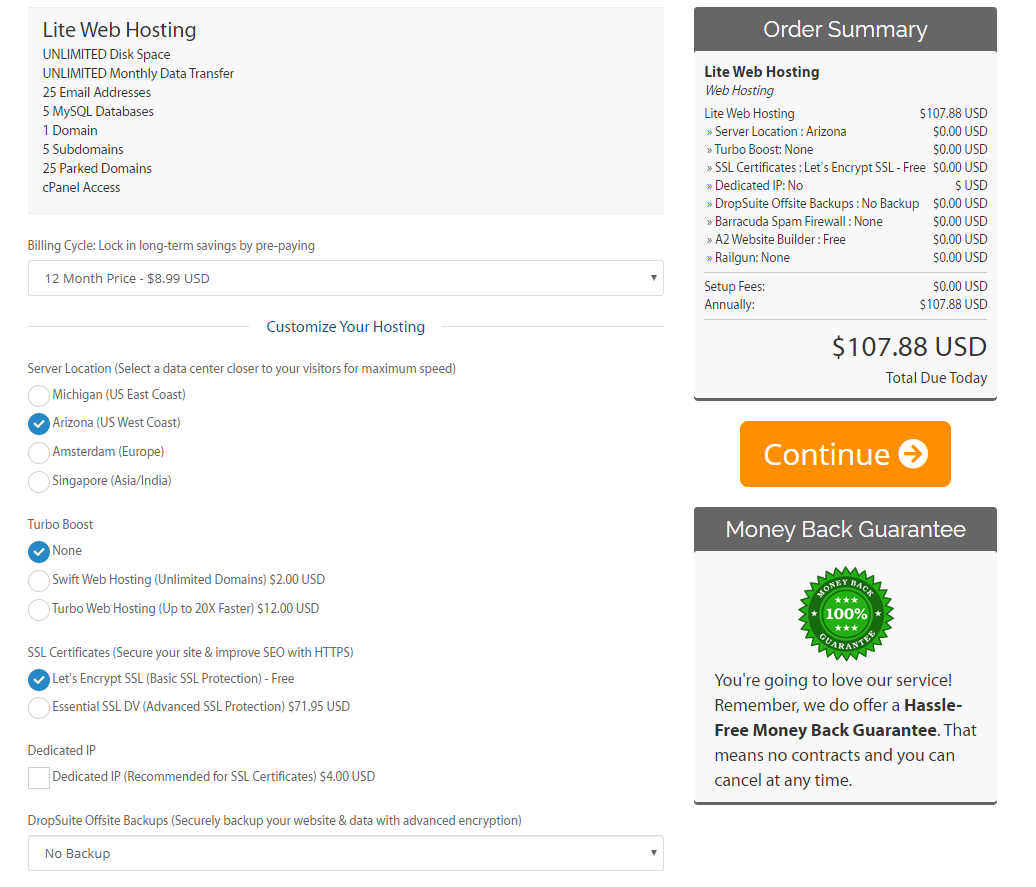 Website Builder And Control Panel
Getting started, creating and publishing a website with the A2 is simple. A2 uses SitePad as it's website building tool which is powerful and easy to use. Browse and choose the perfect theme from over 350 options. In addition, the SitePad website builder with A2 offers over 40 widgets.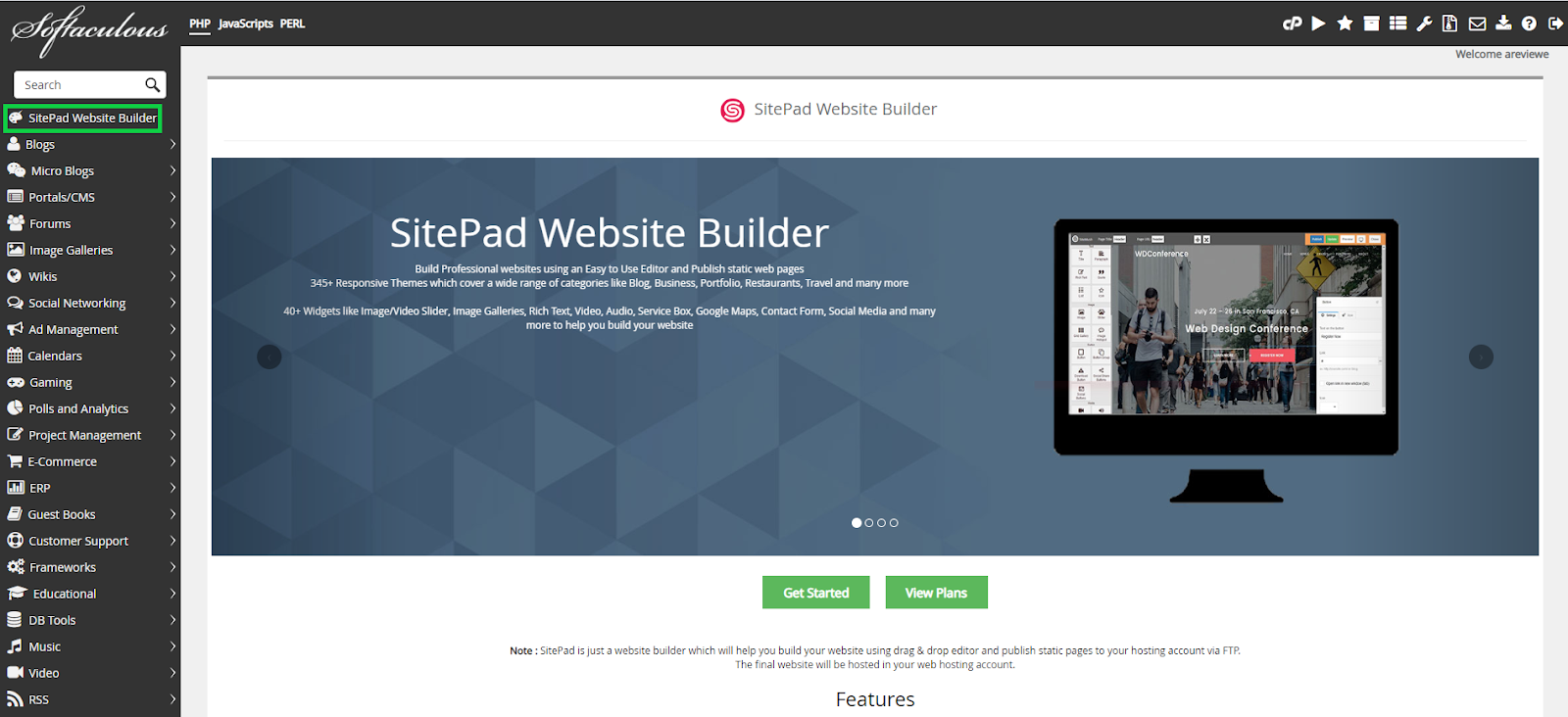 To get started on building a website, simply locate the website builder icon from your cPanel account A2 provides you with. Next, select the domain name you would like to start building the website for and then launch the website builder and start customizing your site! As expected they offer 24/7 email, phone, and live chat support to address any builder concerns.
Your cPanel account is where you will have access to the website builder, a free SSL certificate, 1-click-website staging, automated server rewind backups, and anytime money-back guarantees. Also, check out the A2 optimized Wordpress plugin. This plugin ramps up the speed of your website, secures privacy, and much more.
As mentioned, A2 uses cPanel Control Panel that is a full-featured platform to help you accurately and efficiently manage your web hosting needs. It works whether you are merely hosting a personal blog or website, are a reseller, or are using a dedicated/VPS server. cPanel utilizes a user-friendly graphical user interface, making it easy for everyone to use. It also comes with video tutorials, on-screen tips, and getting started wizards that help take you from zero to webmaster in a matter of minutes.
Customer Support
The Guru team is the A2 hosting customer service team that is available 24/7 every day through email, phone, and online chat to answer your questions and help you troubleshoot any issues you might face.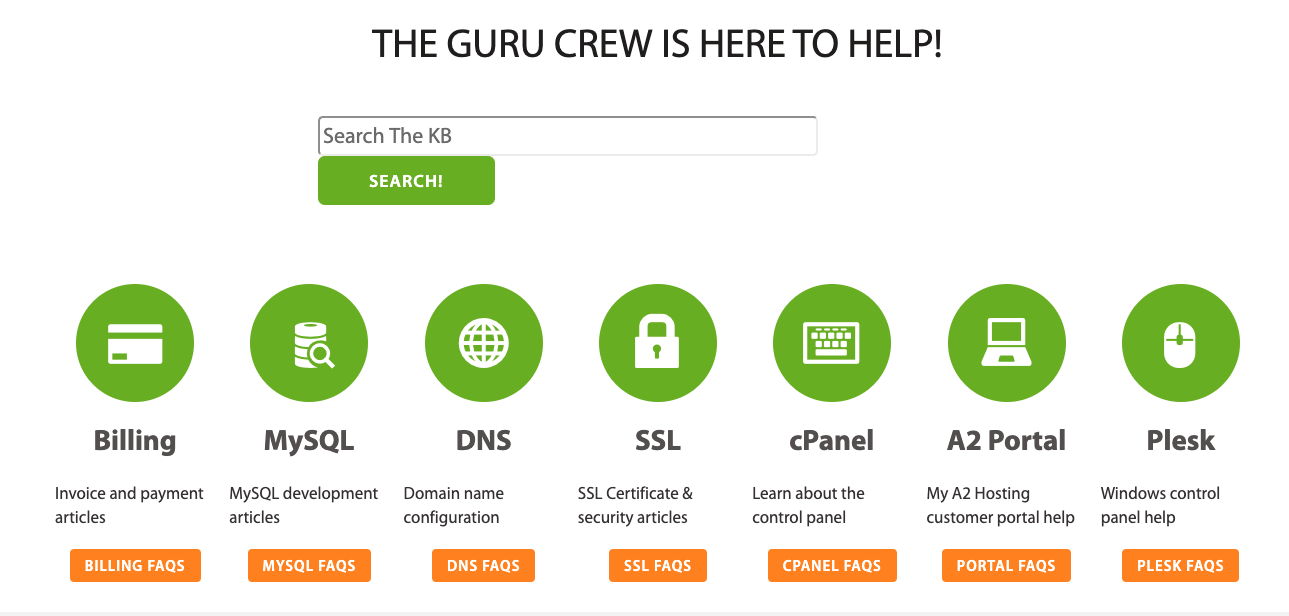 A2 Hosting allows you to try their tools risk-free with their Anytime Money Back Guarantee. This means that you will receive a full refund if you find that the hosting service doesn't work for your needs if you cancel your account with the first 30 days or any time after for prorated refund for unused service after 30 days.
A2 Hosting does not offer refunds for domain registrations, setup fees, and migrations. You will still be able to retain ownership of your domain if it was obtained via free domain registration promotion, and the retail price of $14.95 was deducted from the original amount. You can ask for a refund for your SSL certificate if your request is made within seven days after the original date of purchase.
A2 Hosting provides comprehensive instructions on how to cancel a product or service. They advise reviewing your billing policy and contact their customer service.
Domains And Email
You can easily use the A2 website to search for the availability of your domain name. Unlike other hosts, A2 don't appear to offer a free domain name for the first year of the hosting plan so pay attention to any domain prices. For example, .com, .net and .org domains are $14.95 per year, .site are $29.95 and .blog are $34.95. You can also use country-specific domain extensions that offer you a fully customized domain name to sync with the region you are targeting, .us and .ca cost $14.95/year.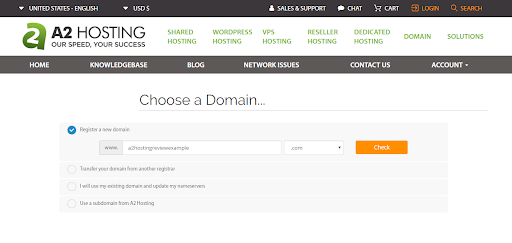 You can easily transfer your existing domain name to A2 by providing your EEP code that is obtained from your current registration company. When transferring your domain name, you will gain full access to A2 Hosting's user-friendly portal. The portal allows you to set up auto-renewals, manage your nameservers, setup registrar lock, DNS management, and many more options. You will also have access to ID protection that is set up to protect your personal information and reduce spam—domain theft protection to prevent the hijacking or transfer of your domain name without your permission. You will also have a 24/7 guru crew to answer any of your questions and troubleshoot your concerns.
A2 offers email hosting solutions, which include IMAP, that allows you to store your email messages until you delete them. POP3 protocol allows your emails to be held on your server and SMTP, which transfers messages among servers.