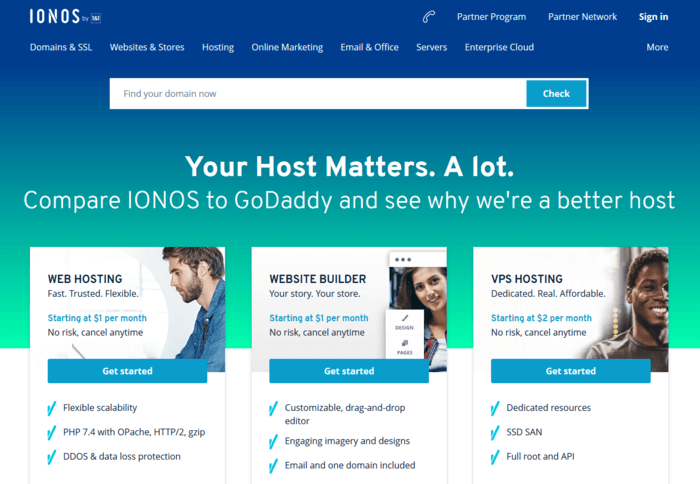 Services And Features
Each category of hosting has the usual tier system with incrementing features. Shared hosting, VPS hosting, dedicated hosting, cloud hosting, and WordPress are all choices on the menu.
With their active competitive streak, it's perplexing to fathom how Ionos can manage to stay in business, especially with their Essential Plan. The Essential plan is offered at $4/month and is for one website with 10 databases and 10 GB of storage. It only provides minimal RAM and CPU resources but still functions steadily.
Ionos offers basic levels of security at no cost. Additional services such as Domain Guard are available for a monthly fee. Site Scan is the security feature that Ionos to secure their client sites. The service is a product of SiteLock, and it scans for Malware and vulnerabilities. Site Scan does have a repair feature, but it is limited. Clients can expect the software to scan and monitor for spam, blacklist entries, reputation, Malware, and vulnerabilities. No action is required from the client for the software to perform.
Ionos also provides clients with additional services such as Local Business Listing, SEO Optimization Tools, Google Ads Management, Business Marketing, and Marketing Software. These services can be obtained with additional cost to the client. Domain services such as domain names, transfers to and Ionos, SSL Certificates, and Domain Guard are also provided. Domain Guard gives clients DNS traffic verification with DNSSEC encryption and secure, two-factor authentication access rights at $15/year. Domain Guard is just an added layer of security against hackers that attempt to modify DNS records, which is also referred to as domain hijacking.
Those clients that are interested in infrastructure and cloud applications will find Ionos services comparable to others in pricing. One of the unique features is that there are no fixed contract times. No contractual requirement lets companies downscale more frequently based on forecasted activity, which can convert to significant savings.
Sign Up
It's easy to see Ionos' appeal with a clear and concise checkout process and hosting as low as $1 per month. However, we urge you to check the renewal prices as they do increase quite drastically. Business Plans for example, start at $1/month and go up to $8/month after a few months. We'd recommend this type of plan for single-site larger projects. It has unlimited databases, storage, and websites. The plans are optimized for up to 200 visitors per minute and can be expanded for a max of 6 GB ram.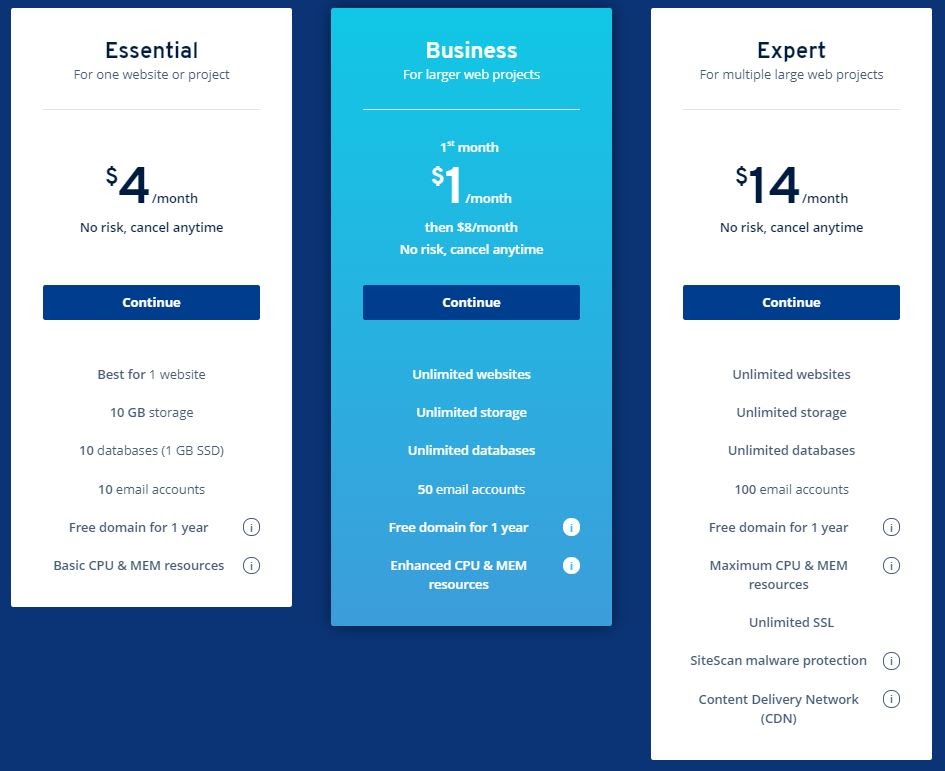 The Expert Plan is excellent for multiple site projects and pricing starts at $14/month. This plan is a great value for its unlimited website creation, storage, and databases. It comes with a Content Delivery Network and SiteScan Malware Protection.
Along with domain registration, Ionos offers additional features. In this step, users can buy extra cloud storage, malware protection, and List Local Essential. Ionos is continually adding new features to enhance your website. These features do come at a cost, however, they always offer a free 30-day trial.
Website Builder And Control Panel
The MyWebsite - Website Builder helps users create truly powerful websites. The builder is simple enough for all skill levels to master and it requires no coding skills or technical knowledge. You can choose from a large selection of templates and all can be tweaked and customized. Ionos even offers completely blank templates, so the possibilities of customization are endless. Users also have the ability to add more pages, widgets, additional content, add a store and blog.
Before you can start building your site, Ionos ask a few questions such as site name and your field of work. Ionos uses this information to populate relevant text and images for your website, which correspond to the type of work you do. They also will display specific templates that match your industry which is helpful.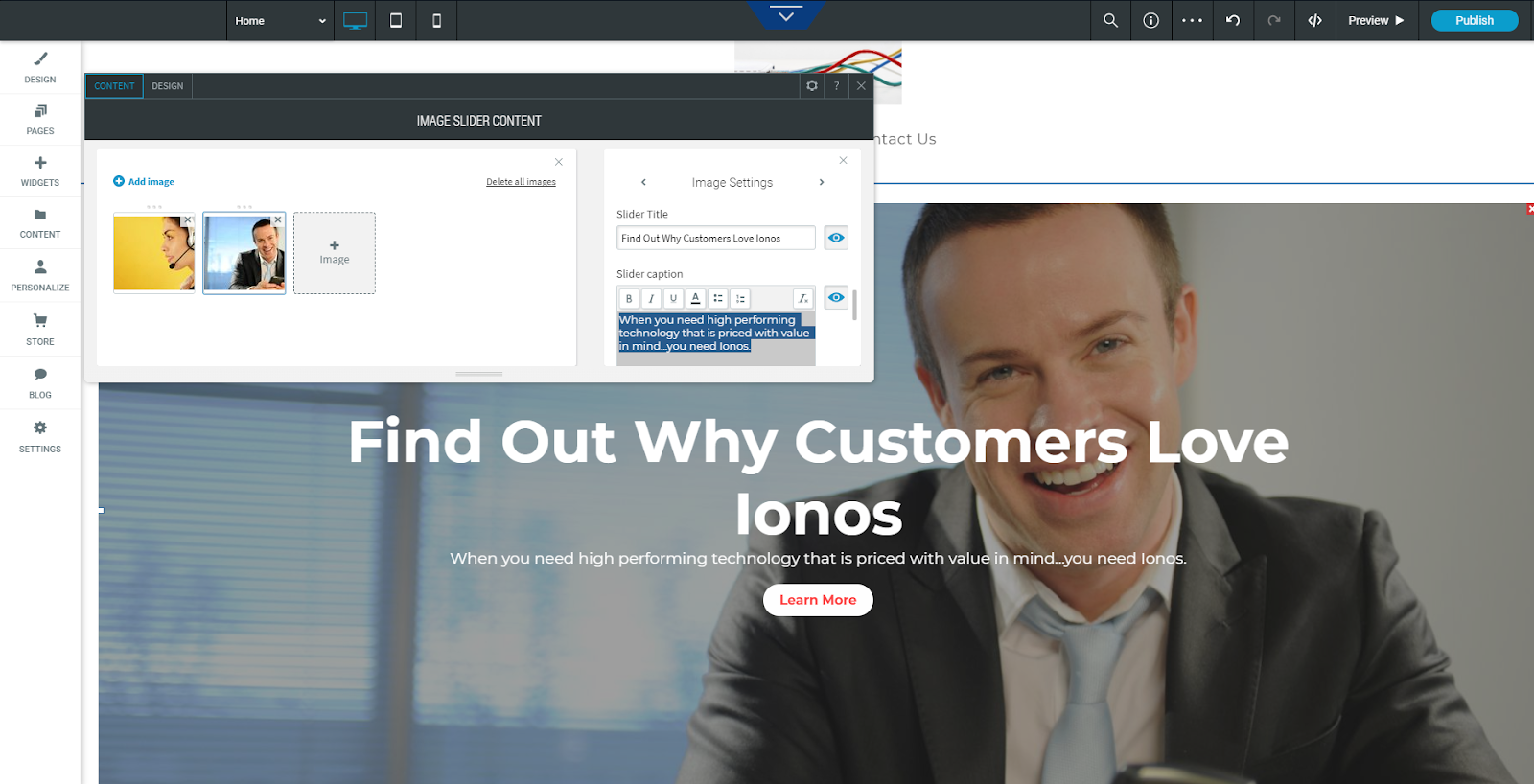 In addition to all these great setup features, Ionos will also prepare an Online Business Card for your company or organization. This business card replaces the typical "under construction" wordage shown whilst a site is being built and is a nice touch.
It's important to note that Ionos splits it's subscriptions into Hosting and Website Builder. If you choose Website Builder that is all you have access to which will suit many, but not everyone. For the more technical, you should select a Linux Hosting plan where you will use Ionos' own custom control panel rather than cPanel to build your site. The tools in their control panel are relatively simple, but we would say you need to have a sound hosting knowledge to build your site using this method.
Customer Support
This is not one of the strong points at Ionos, but customer service is available. Issues can take more time than usual to be resolved in comparison to better-staffed customer service departments. It may take a few calls to get a problem remedied.
There is a knowledge base available for those that are more inclined to solve issues on their own. Live Chat is offered, but will often result in having to call Ionos because the chat operators are not given full rights and solutions. Agents are also sometimes not available.
Because there seem to be fewer customer service representatives available, Ionos has beefed up their knowledgebase. This is a great feature for both web gurus and newbies alike. The articles that the knowledgebase offer is informative and very helpful.
Domains And Email
A free domain name is included in Ionos subscriptions and if your domain name is available, you will be given the option to buy additional, similar and even premium domains. Ionos offers relevant suggestions if the domain you enter isn't available. When registering your domain, be sure to select the FREE private registration if this is something that interests you. This is excellent for those who want their personal information kept private on WHOIS lookup
Ionos provide extensive email options including a simple forwarder up to a Hosted Microsoft Exchange package. Their Mail Basic option can be used with any email program and when setting up your account you can choose between IMAP or POP.