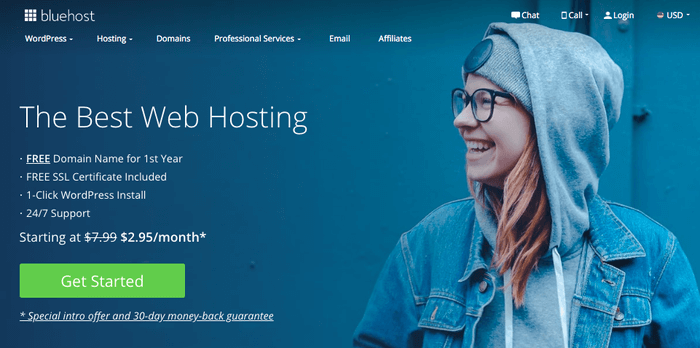 Services And Features
Each of the shared hosting plans includes the ability to scale (at a cost), resource protection, a domain for one year at no cost, SSL certificate, and marketing credits.
Basic is offered at $7.99/month before any applicable discounts. It provides one website, unlimited bandwidth, 25 sub-domains, 5 parked domains, and 50 GB SSD Storage. The Plus Plan to the Pro Plan gives unlimited websites, SSD storage, bandwidth, domains, parked domains, and sub-domains. Spam Experts are also available in these plans and 1 Office 365 Mailbox for 30 days. The Plus Plan is $10.99 /month before discounts are applied. Choice Plus has all the above but includes domain protection and privacy and site backup with CodeGuard Basic. Choice Plus is $14.99/month before any applicable discounts. The Pro Plan is $23.99/month before discounts and has fewer users, which translates to higher performance. It also has a dedicated IP.
Bluehost WordPress hosting is quite economical when comparing the price to its value. Each of the plans gives clients a free domain for a year, $200 marketing credit, and an SSL certificate. The Basic Plan is for one website and allows for 25 subdomains and 5 parked domains with 50 GB SSD storage at $7.99 a month. Plus, and Choice Plus Plans are from $10.99 - $14.99 before discounts. The plans offer unlimited websites, storage, parked domains, and subdomains. The Choice Plus plan also includes CodeGuard basic backup.
Those customers that are ready to jump into selling online will find Blue Hosts ecommerce service the best option. Each of the three plans includes a free domain, WooCommerce auto-installation, SSL, dedicated IP, unlimited bandwidth, and $225 in marketing credits. WooCommerce can be a pain to install, so having the team at Bluehost install it does make the process less cumbersome. It also gives the client the confidence that it was set up correctly if they don't have prior experience with the software. Each plan also includes a free setup call and a month of Office 365 Mailbox.
Bluehost designed it's servers to be secure, but as with any other hosting company, security is a two-way partnership with the client and the company. Bluehost gives it's clients the best way to secure and protect their data with the Basic Site Security checklist. The checklist shows clients how to remove malicious files, update scripts, fix permissions to make them more secure and how to hide configuration files that hackers go after to compromise a system.
Sign Up
Signing up with Bluehost is pretty easy as you just need to follow 5 simple steps. Bluehost offers 4 different hosting plans: Basic, Plus, Choice Plus, and Pro. All plans include at least one free domain, unmetered Bandwidth, Free SSL Certificate, and Standard Performance. Spam Experts, Domain Privacy and Protection, and Site Backup are offered in the more advanced hosting plans. Once you've decided on a plan that fits your needs best, click on the green "Select" button under the appropriate web hosting plan to proceed.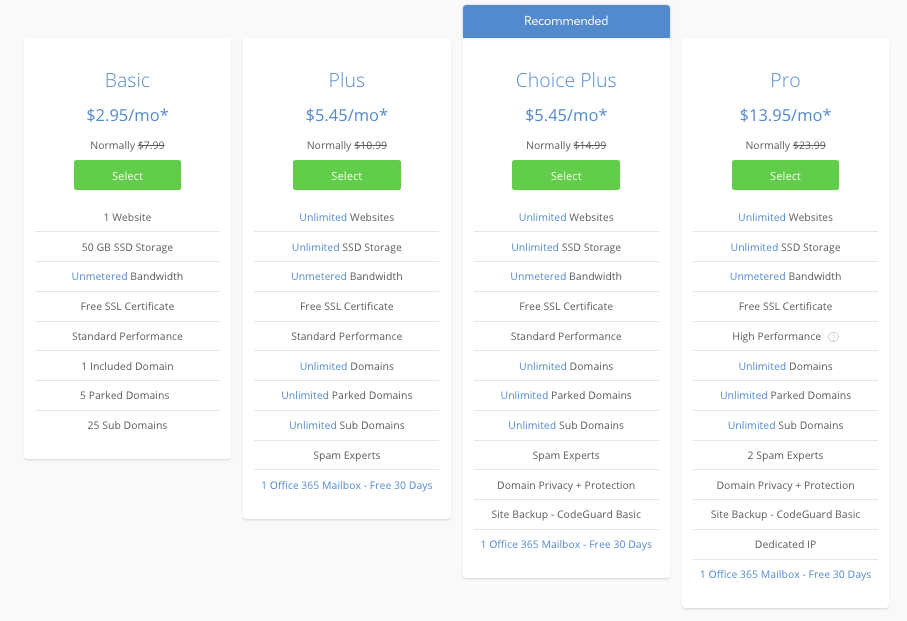 Bluehost's will help you create a domain name with the use of a search box. This will be your website's address. If you already own a domain name, simply enter the existing domain name in the "Use a domain you own" box. If you'd like some more time to research domains, then follow the link "I'll create my domain later" found at the bottom of the page to skip this step which some people will really appreciate.
Their order form is simple to follow and split into clear sections. You must enter all of your personal contact details or you can use Google Single Sign-On which speeds up the process. Subscription plans vary from 12 months, 24 months and 36 months and the longer your commitment, the lower the hosting price. Your primary domain registration and SSL Certificate remain free.
Bluehost offers a variety of additional service options listed under their Package Extras section. These include Domain Privacy and Protection, SiteLock Security, Codeguard Basic, Bluehost SEO Tools and an Office 365 Mailbox 30-day free trial. When it comes to payment methods, Bluehost accepts Visa, Mastercard, Discover, and American Express as well as PayPal.
Website Builder And Control Panel
Blue Host makes creating your website simple by automatically installing a website builder on all shared and hosting accounts. Each Bluehost account holder has access to two site builders, Weebly and WordPress. You have the choice to pick from hundreds of basic and premium themes that include pre-designed templates with the ability to customize elements of the design. Leaving you with more time to focus on building more web pages. For anyone new to building a website on either of these platforms, Bluehost provides video support for using both builder options which we love.
If you choose to build with WordPress, you may be asked several questions to setup your new website after purchasing your domain and hosting package. You are then shown 4 options to choose from to build your WordPress site. Gutenberg, Elementor, Beaver Builder and Brizy are all page builders which work with WordPress so make the creation process simpler. Bluehost then provide you with a recommended list of things to complete before launching your site which is very helpful for newcomers.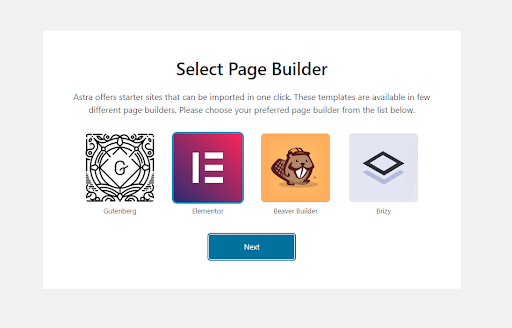 The next step is picking a theme for your website. We recommend taking your time, explore your options and if you need more time, don't worry, you can skip this step and complete it later. After picking a theme, it's time to import it onto your site. You will have options to edit and customize the theme with the option to add video, image, icon, rating scale, button, and/or extra text.
When it comes to viewing your site, you have 3 options to check your site looks right on all devices; desktop, tablet, and mobile. Once you're pleased with your choice, you can view the final site which is what the user will see. You can return to the page builder to make any additional edits at any time, nothing is ever final. The process overall is relatively simple to follow and BlueHost guide you through it, we do, however, think beginners may be best suited to using Weebly rather than WordPress and it's page builders.
Customer Support
There has never been a moment where we could not reach someone at Bluehost. They are genuinely 24/7 and staffed with knowledgeable and friendly professionals. Customer service can be reached night or day at 888-401-4678 or by using the provided live chat feature. International clients can contact Bluehost at +1-801-765-9400. The company is also very active and responsive on Facebook, often responding within an hour. One of the best features of Bluehost is their Customer Service team. This is an award-winning group of professionals with a real dedication to their clients.
Domains And Email
The process of finding and registering a domain name is easy and fast with Bluehost. They have an extensive list of domains and a wide array of domain extensions. Including but not limited to: .com, .org, .us, net, .biz, .co, .co.uk and .info. Plus many more! All Bluehost Plans offer and suggest the purchase of Domain Privacy and Protection for the safety of your website, but purchase is not required. In addition, all plans and products automatically renew unless you cancel by looking into your account or by calling customer support.
Bluehost has a variety of options for selecting a domain name. If a domain name is already taken, it will read, "unavailable". Bluehost will offer a list of suggestions that are similar to your recent search. You can explore these or continue to search for other domain options. Bluehost also offers an option to select additional names for a cost.
Setting up webmail with Bluehost takes just a few steps and you'll find it to be one of your most-used features. Once you've created an email account with Bluehost, you can access and manage your mailbox directly from Bluehost. You can also set up an email client on your desktop or mobile device. Bluehost offers three ways to log in to your webmail: Direct, Control Panel, and Custom Subdomain.