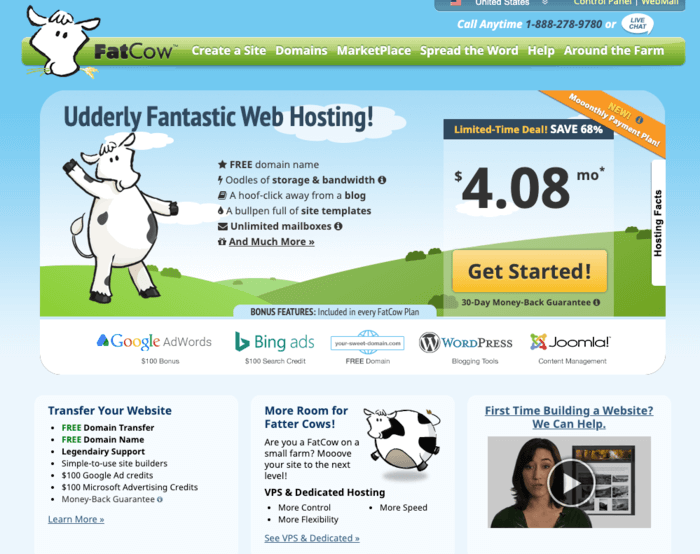 Services And Features
FatCow offers hosting plans that cater to personal and small businesses with a one price plan. The FatCow hosting plan allows you to get everything you need right out of the box and create your own space on the internet. It also offers MiniMoo a minimized hosting plan that comes with a domain name for your website, email address, and generic construction page that is powered by the website builder tool to help you build your own web page.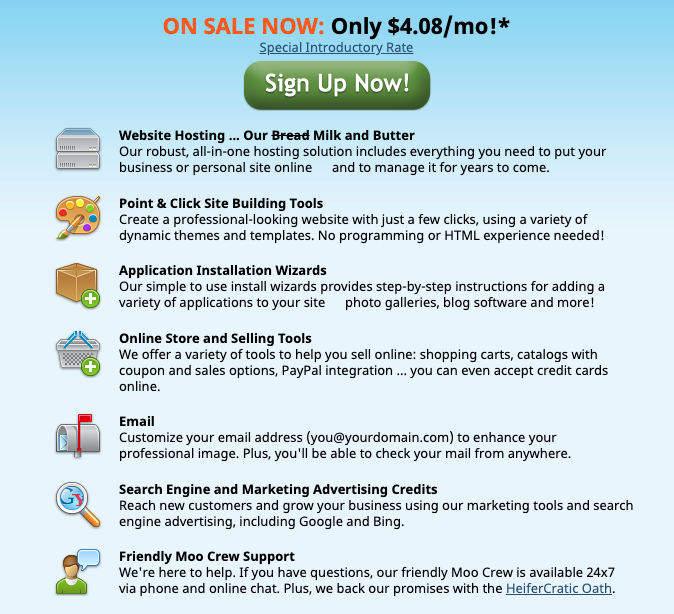 FatCow hosts your website at an introductory rate of $4.08/month. This service provides you with everything you would need to take your personal website or business online and manage it best for years after. You receive a free domain name for the first year, generous storage and bandwidth along with a large selection of site templates that you can work from to build a unique site. They also include a website builder tool that allows you to have a professional-looking site within minutes.
You will have access to web analytics tools that allow you to monitor your traffic and understand how to improve your outbound and inbound marketing strategies so that you can attract, engage, and retain your customers. FatCow also provides you with marketing tools such as Google Ads Bonus at $100, Bing Search Marketing Credit for $100, HubSpot website grader to help you optimize your site.
The hosting service also allows you to sell products online. You can create a ShopSite online store that accepts credit cards, comes with PayPal integration, power pay, and shared SSL to protect your customers and your business from unauthorized access.
Sign Up
FatCow makes the signing up process quick and easy. If you do not have an existing website, FatCow provides creation tools to build a professional site in just a few hours, no matter which type of website you will be hosting - personal, business, or e-commerce.
FatCow offers three basic payment plans, the FatCow Plan has limited options but comes with a free basic Weebly Website Builder. The Pro and Business Plans charge additional fees for more enhanced features which include: AI-powered builder, unlimited number of pages, blog, customizable footer, memberships registration, coupon codes, contact management, social media integration, and more.
During the checkout process, pay attention to the 'Website Essentials' field located below the billing section and be sure to select the correct box when picking a website builder. Check 'Create Your Website' Website Builder for the more upgraded website builder plans. This will be an additional $6.99/month. If you are looking to use the free Weebly Website Builder, just uncheck this option.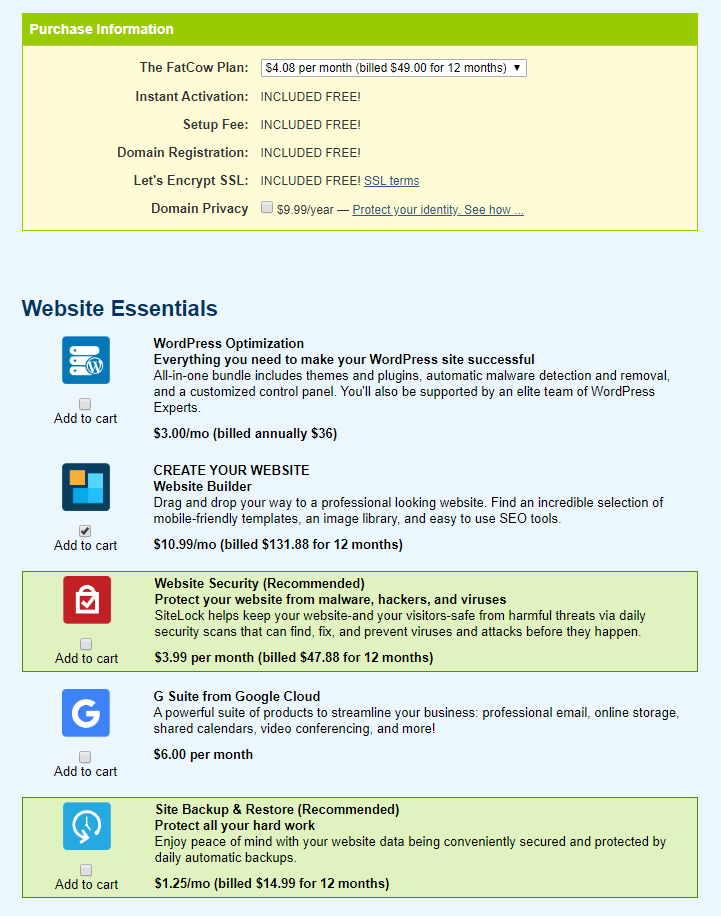 Once contact, payment, and purchase information has been entered, and any additional add-on services have been included, you can start building your website. Please be aware that all plans and products will automatically renew for the same term length unless you cancel. To cancel, log into your account online or call customer support at 888.278.9780.
Website Builder And Control Panel
FatCow makes it quick for anyone to hit the ground running and build their website using its free Weebly website builder tool. This tool is easy to use and utilizes drag and drop features that allow you to quickly grasp the controls and focus on learning how layouts and HTML templates come together to form a cohesive, user-friendly site that is initiative and results in customer satisfaction.
All of Fatcow's plans automatically include the free Weebly website builder tool. Because it is free, it does come with a limited selection of mobile-friendly themes and templates and a maximum of 6 additional website pages.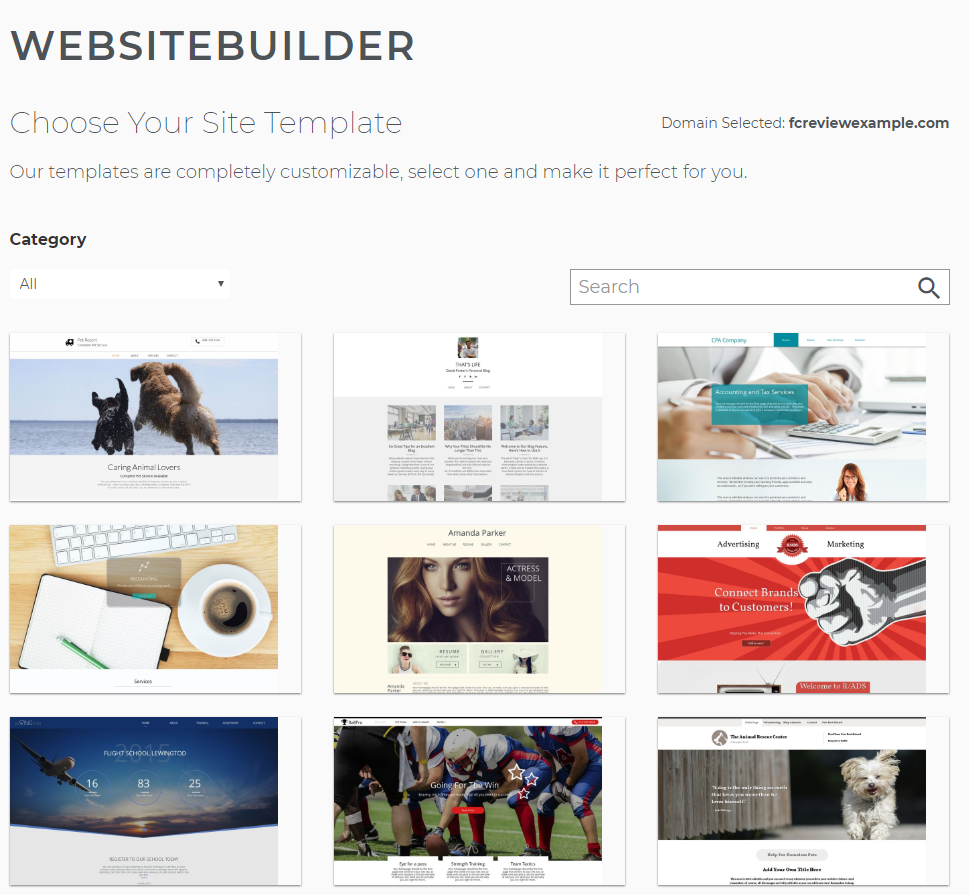 If, during the checkout process, you selected the box, 'Create Your Website' Website Builder, for an additional fee of $6.99/month, then you have access to the upgraded website builder plan. This feature provides a larger selection of mobile-friendly templates, an image library, and SEO tools. Pick from a variety of built-in functions and styles such as curated WordPress themes, pre-installed plugins, and a customized control panel that's been designed to make the design process quick and easy.
Users can also adjust many other options from their control panel. Other services offered to optimize the management of your website entirely are the ability to create a database for your site, which allows you to create a dynamic site that changes data and keeps up with world changes. You can also use the website builder to integrate a complete online store with transaction terminals that are managed by secure merchants. All the tools you need to set this up are available in the control panel.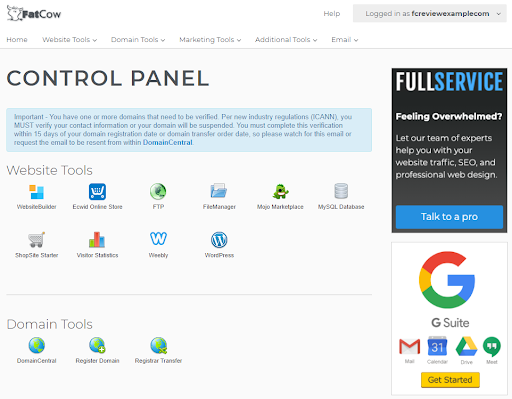 FatCow allows you to ensure that your site is mobile friendly using the goMobi site builder tool. You can also access Sitelock, which protects your website from fraud, identity theft, and spyware.
Finally, FatCow offers some extra e-commerce options, as well, to help boost your website's google ranking. Purchase the Positive SSL for $3.34/month or $39.99 for the full year to show customers that you have a trustworthy website. Add Constant Contact and get a 50% discount for the first six months at $10.00/month, giving you access to reach up to 500 contacts.
Customer Support
FatCow is available to you 24 hours every day. The support team can help resolve your domain, hosting, and online questions. The Moo Crew Support prides itself on being friendly and helpful and offers customers various contact options to suit their preferences. They also promptly respond to any questions and queries and can be contacted by telephone, live chat, email, or post.
The crew takes the satisfaction pledge or HeiferCratic Oath that ensures that customers are always met with an enthusiastic Moo Crew member with a can-do attitude. A positive customer service experience is always guaranteed so that if you don't receive a positive experience, you can expect to receive a free month of hosting.
The service also provides an extensive FAQ Library that is curated to answer all commonly asked questions. You will also have access to comprehensive easy to follow step-by-step tutorials that enable you to easily step up your site and start using it as soon as possible.
Domains And Email
With FatCow, you can create and register a unique domain name on the web that suits your needs and makes your site accessible. If a domain name is set to be released to the general public, FatCow makes this information available, allowing you to pre-register to secure the domain name. Securing the domain name increases your chances of winning the name, and it is best especially for popular domain names.
You can use the search bar to enter the domain name you are interested in accessing to determine whether it is available, or you would need to pre-register for the name. FatCow has an Early Access Period that it uses to allow you to pre-register for domain names that are coming into availability. This is a first-come-first-serve process and is available to specific domain extensions that are new. If you desire a specific new domain name, you can pay for priority registration, which allows you to pay a premium payment to place your request ahead of the standard pre-registration period and secures your access to the domain name.
Setting up an email with FatCow is easy and comes free with the purchase of a hosting plan. All email plains include access to your email, calendar, contacts, and task management. You will have unlimited POP mailboxes which allow you to store your emails on the server until you read them. FatCow offers spam filtering tools, as well as, Virus Protection. Also, you can create and manage your newsletter using the Newsletter Manager Tool.
Fatcow recommends two additional email services for an extra annual cost. The Premium Spam Filter is offered for $9.95/ year, ensuring that trusted senders are never blocked, while also helping you gain more control over your spam filters and reporting tools. The Larger Mailbox Storage feature is great for those looking to increase their storage space and mail count limits. Also, this gives you the option to archive emails forever. A 2GB Mailbox is $9.95/ year, 5GB Mailbox is $24.95/ year and 10GB Mailbox is $39.95/ year.
Also, known as POP accounts, business email accounts are offered by Fatcow. Fatcow provides you with two pricing options. For 5 POP boxes it's $30.00/ year and 10 POP Boxes are $60.00/ year. To get started with this option, click the 'Get Started' button and fill out the registration form. Once completed, go to the Members Area and click the link 'Business Mailboxes' and set up your email account(s).