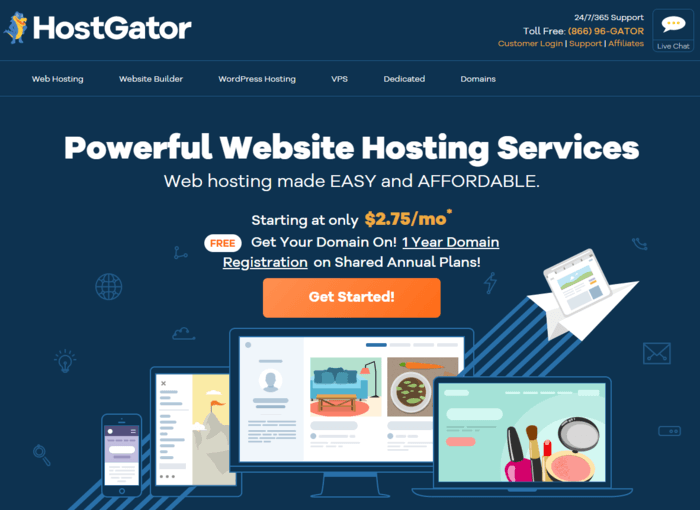 Services And Features
The majority of websites hosted by HostGator are ones that don't need anything more than a shared plan. Ecommerce or blog sites are examples of websites that can efficiently run on shared with no problem.
The Hatchling Plan is much like a starter plan for newbies. It's the cheapest offer, and it allows people to host one single domain and unlimited subdomains. One-click installations of numerous different applications are offered, and even with your hatchling plan, you are allotted unmetered bandwidth and disk space as long as you stay within the traffic margins.
HostGator's Business plan is perfect for businesses that plan on future growth. Customers get a private SSL certificate and a dedicated IP address. This will allow you to accept payments securely and immediately from your website. This is an excellent inclusion because most web hosting companies don't offer free SSL certificates.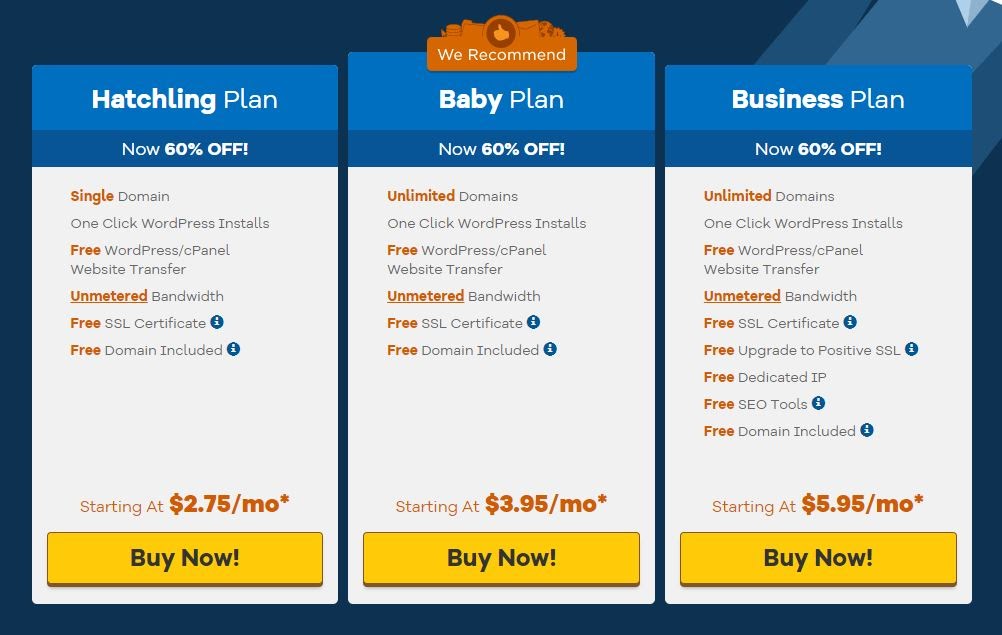 HostGator provides adequate security by default, but takes little to no responsibility for what happens to your site unless you pay for premium security services. Some have said that they have only found out about a malware attack on their site by finding their site down. HostGator will not allow a website to go back online until malware issues have been resolved. They offer a service in which they will clean a site, but it does come at an additional cost.
Sign Up
HostGator offer three plan tiers for their website hosting services. All plans include free Wordpress/cPanel website transfer, unmetered bandwidth, free SSL certificates, and a free domain. The Hatchling plan is perfect for new and smaller sites. The Baby plan a feature of unlimited domains. The Business plan has the most features. This expanded plan adds a free upgrade to Positive SSL, dedicated IP at no charge and complementary SEO tools.
If you are starting a small business such as a WordPress website, or building a portfolio site, then taking advantage of their cloud-based WordPress hosting might be the route to take. Larger projects will want to look at HostGator's VPS plans so that you are getting the proper amount of resources needed to run your website smoothly.
Website Builder And Control Panel
HostGator give users two options for building a website; through the Wordpress Content Management System or HostGator's Drag-and-Drop Weebly powered builder. If you choose HostGator's Weebly website builder you'll find it intuitive and simple to use. They also guide you through the entire process of creating a perfect website, in no time.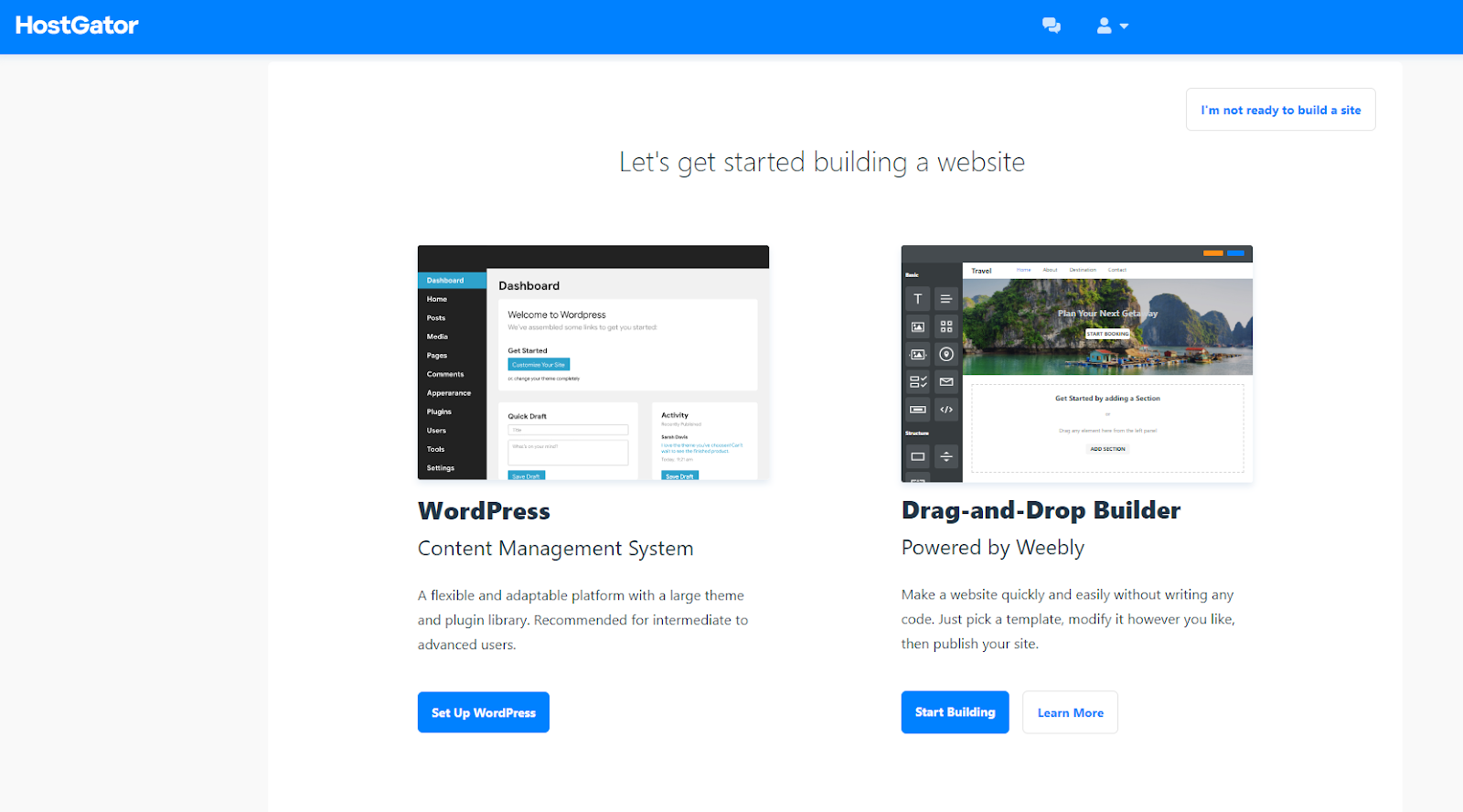 If you choose the Weebly powered builder, you can select a theme from the many templates to choose from, there's a huge selection of themes to fit any niche. Once you find the perfect theme, it's time to start editing! With the basic plan, you have a variety of editing options located in the left column of the editor. There are some limitations, such as to edit the footer or use more advanced editing plans, you will need an upgraded plan.
It's easy to customize the color of your website header, there are unlimited color combinations using this website builder so you can get creative with it! Before publishing your website, you can preview how your website will look on mobile devices which is helpful. The final step before publishing your website is to preview all your customizations. Once you have proofed and designed your site it's just 1 click to publish your website.
HostGator used the hosting industry-standard control panel cPanel which is accessible through their own Dashboard. Although cPanel can be a little perplexing to someone who hasn't used it before, once familiar, the interface is simple to navigate, and eventually easy to understand. Through your cPanel, you can manage your email accounts, as well as view your website traffic analytics. Adding your domains and subdomains can also be done through your cPanel, along with managing the development of your website files.
Customer Support
HostGator hasn't been known to have the fastest customer service in the industry, but they do provide 24/7 customer support. There are many complaints floating around the web that wait times can be extremely long, but the upside to their customer care is that the representatives are trained to take their time with each customer. Whether you need help with billing or technical, they work to solve every problem that you send their way.
A feature that HostGator customers will benefit from, is their extensive video tutorial system. There are hundreds of videos which range from the simple 'Logging into cpanel' and 'Adding a subdomain' up to the more technical areas of WHM and FTP.
Domains And Email
HostGator offers 1 free year of domain registration on select yearly subscriptions. When you enter your desired domain for registration, HostGator notify you if it's available for purchase and they also give you the option of growing your online presence with additional TLD's, often at a discounted rate.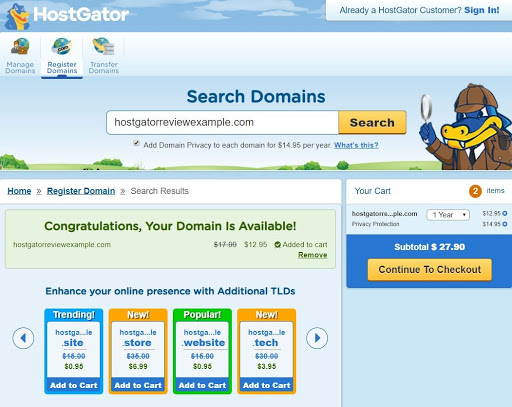 It takes only a couple of simple steps to set up an email account with HostGator. They offer two ways to access your email, through their direct link in their HostGator control panel or through your cPanel account. With both options you just need to click on Webmail and you can then choose from Horde, Roundcube or SquirrelMail to setup and manage your email. You will then be guided through the processes of accessing and completing email setup.