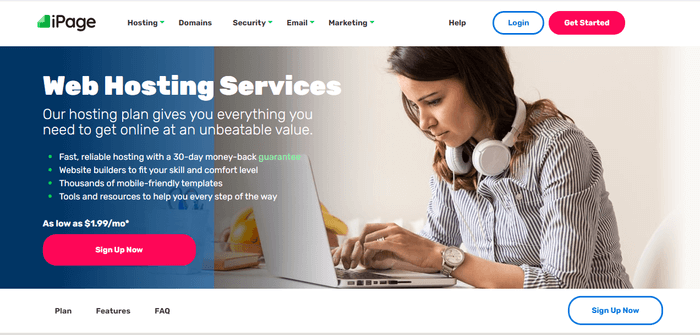 Services And Features
Basic hosting at iPage is offered at $1.99/month which requires a 3 year agreement, and the service renews at the regular price after the terms of the agreement. Hosting includes freebies such as domain transfer or registration, SSL certificate, site builder, email address, and 24/7 support. iPage also has a 30-day money-back guarantee and offers new customers $500 in extra marketing credits and site tools.
iPage are a strong option if WordPress is your focus, customers will find that they have many curated themes and plugins. This is a decent feature as having to search through the free themes on the WordPress site along with outdated plugins, can be time-consuming. Speed and security are also on the table with loading speeds more than doubled.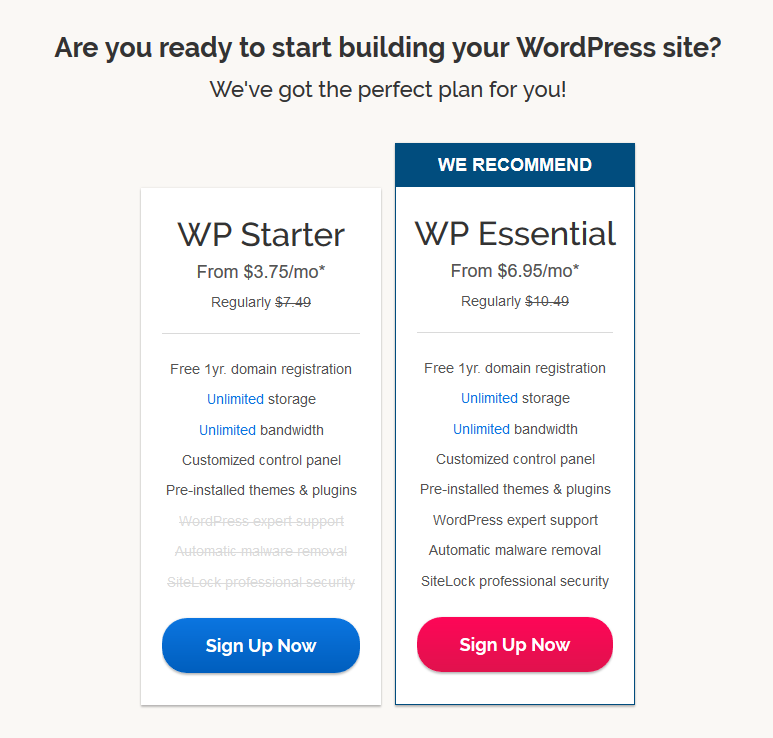 Security at iPage is very dependent on SiteLock. The company offers the absolute basics in terms of server health and security but provides little more for individual sites. This could be a problem, especially in a shared hosting environment.
Site Backup and Restore along with Website Security can be added for additional costs and are worth considering. WordPress Optimization is another additional service which offers expert support, automatic removal, and detection of malware and additional plugins and themes. VPS and Dedicated Hosting are also offered by iPage.
Sign Up
iPage have worked hard to ensure their sign up process is as easy to follow as possible. First you choose your domain and helpful suggestions are made if the domain you searched for isn't available. Next you choose your term length from 1, 2 or 3 years. Prices are clear and your domain is included for free on all plans.
The third stage is where you are shown the customization options. iPage offer the largest selection of additional features which is why they have a whole section of their sign up flow dedicated to them. Some may find this step confusing, it's a lot of additional costs on top of your hosting plan and it's possible to think certain features were already included. Customization options include domain privacy, website security, professional website builder, an all-in-one Wordpress optimization bundle and a G Suite business solution.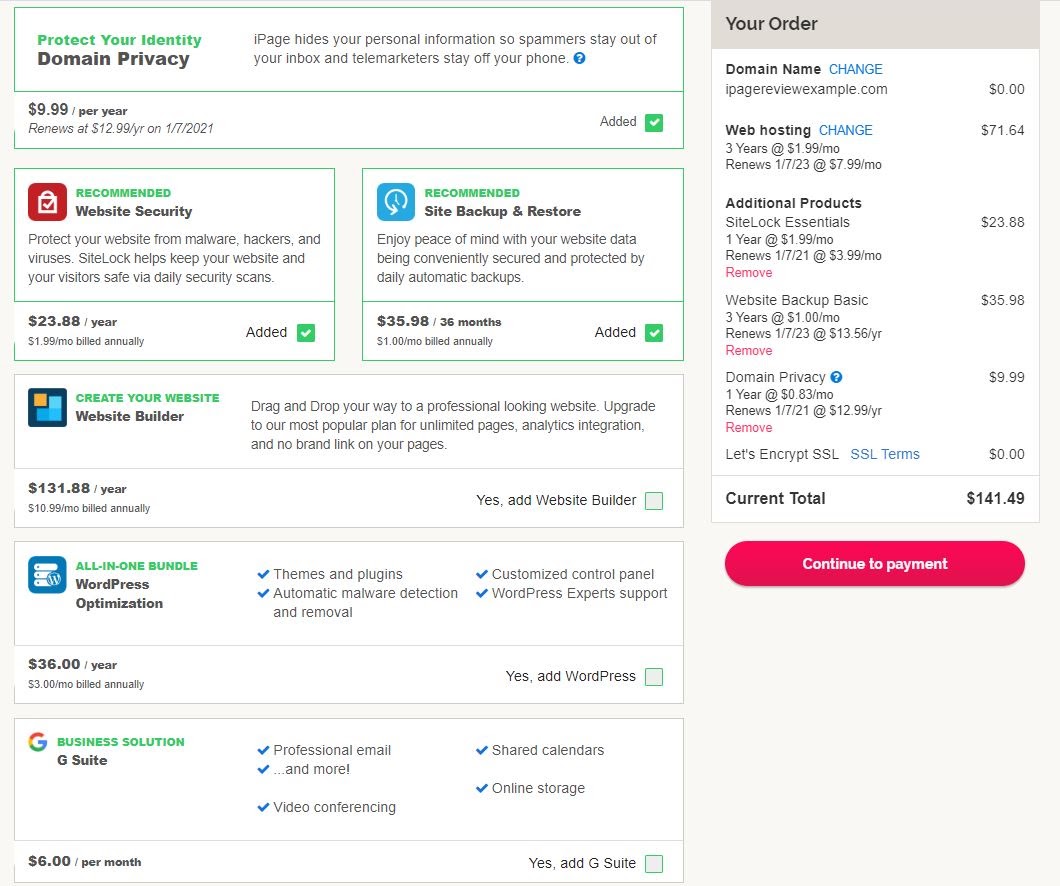 Billing information and payment is made on the final step of signup. The usual payment methods of card and PayPal are accepted.
Website Builder And Control Panel
iPage offers its customers their own robust and easy to use website builder. Users can create up to 6 mobile-optimized pages, if you need unlimited pages, analytics integration and don't want to see any branding there is a sizable additional charge which can be selected during sign up.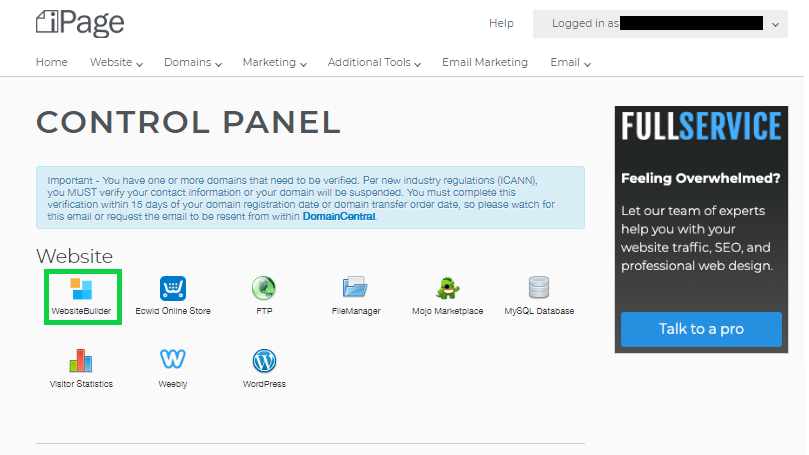 There are hundreds of themes and templates to choose from, as well as a Wordpress 1-click installer (with an additional charge). Helpful setup wizards can also guide you through the process of creating a website.
You get to choose your website template, then click on 'Design' to customize all the elements of your website. With the iPage WebsiteBuilder, you have full control to arrange page sections. You can fully customize the layout, look and feel of your site from the Sections menu. You can also add additional sections to your website. Whatever your idea for your website, with just a few clicks in the iPage website builder you can create blogs, photo galleries, forums and more.
iPage's custom control panel has a stripped down cPanel feel and is simple to navigate around. It's where you manage your websites, domains and marketing tools. As well as their Website Builder, you can also use Weebly to build your site through iPage's control panel and set up an online store through Ecwid. Their control panel also links to WordPress, FTP access, MySQL and Emails.
Customer Support
Customer service at iPage is available by phone 24/7 and can also be reached via chat. The online help center is also always up, and the ticketing system can be used for issues that are minor-to-emergency. The customer service team is dedicated to their customer base and are friendly and knowledgeable. Most concerns can be resolved in one session in live chat. Those that prefer to speak to a human rather than chat can call 1-877-472-4399.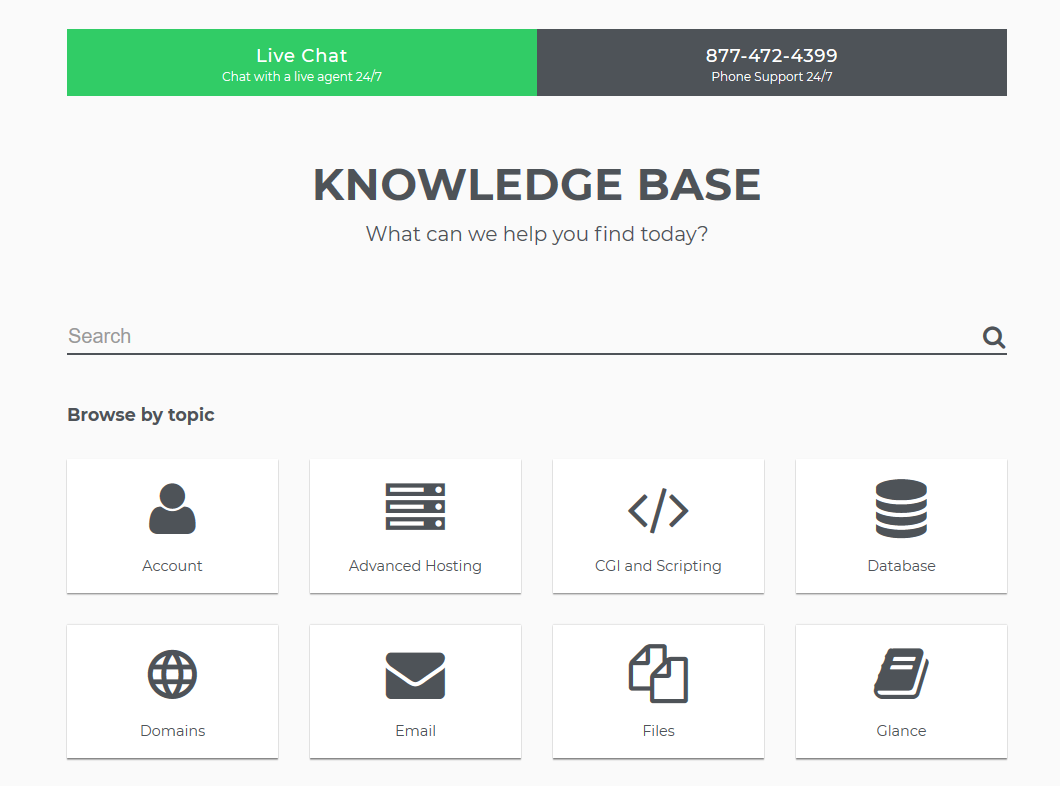 Domains And Email
iPage allow you to purchase domains from them separate to their web hosting packages. You can search over 300 domain extensions. This includes the usuals like .com and .net, as well as unique extensions like .best, .blog and much more! Domain privacy is automatically added, but can be removed, and all domains are set up on automatic renewal. If you are opting for web hosting as well, iPage offer 1 year of free domain registration. If your desired domain name is not available, iPage serves up domain name suggestions.
One of the most useful features iPage offers is free webmail which only takes a few minutes to set up. They have opted for generic email settings to help simplify the setup process for users and once your email account is set up, you can check your email by logging into your account at iPage.