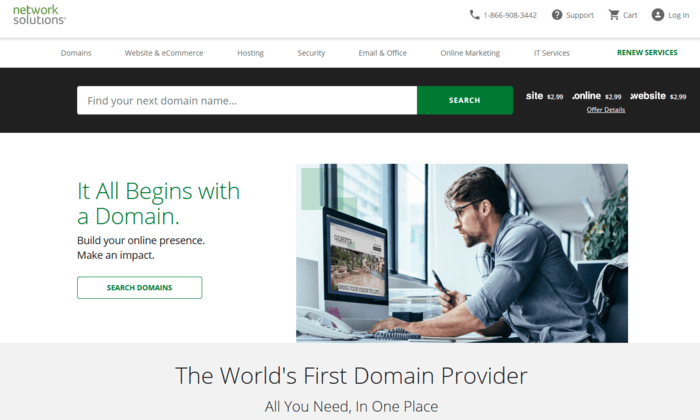 Services And Features
Shared hosting packages are an excellent way to get started online with a website or business portal. At Network Solutions, shared hosting is reasonably priced, comes in a choice of Windows or Linux, and support for phpMyAdmin, PHP7, Python and MySQL. Secure FTP is also provided to move files from your old server to the Network Solutions servers. There are four plans offered with the Essential plan being the most well-rounded and recommended.
The Starter plan at Network Solutions is priced at a monthly rate of $5.69 when signed up for a year. The plan includes five email boxes, a website, and fifteen GB of storage space.
The Essential Plan is promoted as ideal for personal websites. It has a monthly rate of $9.96 when signed up with a year term. This plan provides SiteLock malware monitoring, a free domain name, up to three websites, a thousand email boxes, and three-hundred GB of storage.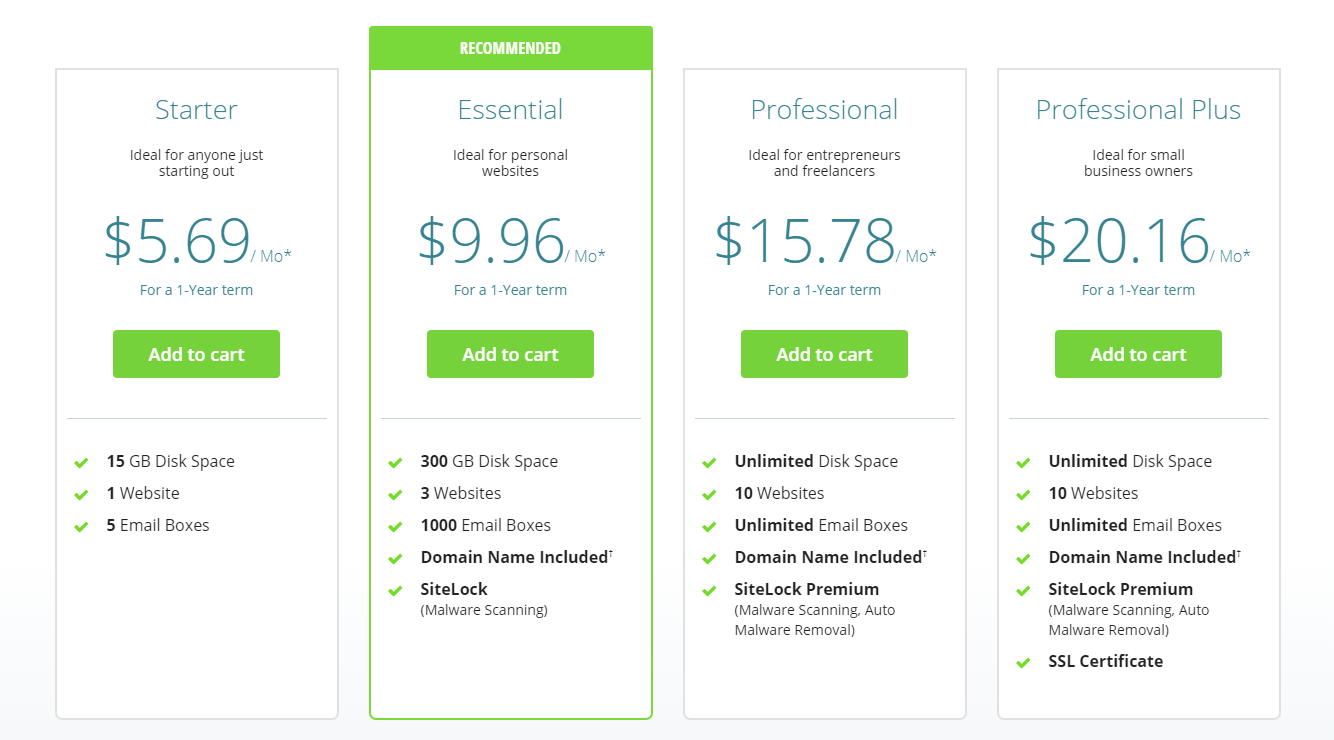 The Professional Plan at Network Solutions for a year of service is $15.78/month. This plan has unlimited storage, up to ten websites, a free domain name, SiteLock Premium, and unlimited mailboxes. SiteLock Premium goes beyond just monitoring and automatically removes malware.
The Professional Plus plan is for the small business owner. This service for a year is priced at $21.62/month. The plan provides an SSL Certificate, free domain name, up to ten websites, unlimited storage, SiteLock Premium, and unlimited email boxes.
WordPress Hosting is offered as separate plans and is three-tiered. These plans give customers an easy, no experience necessary option with access to free plugins and themes. The plans are boasted as having double the speed of competitors of Network Solutions.
WordPress for Entrepreneurs is a plan that provides for 1 WordPress site, gives a domain name, on-demand cloud backup, ten email boxes, and fifty GB of storage. This is priced at $7.99/month on an annual term arrangement. The Second-Tier plan is for a Growing Business. This is priced at $13.98/month on an annual term arrangement. This plan provides for up to three WordPress sites, has a free domain name, SSL, on-demand cloud backup, up to twenty-five email boxes, one-hundred GB of storage, and even multi-site management. The third plan is WordPress for Professionals. This is priced at $18.98/month on an annual term arrangement. The plan has a free domain name, SSL, supports up to five WordPress sites, fifty email boxes, multi-site management, two-hundred GB of storage, and on-demand cloud backup.
Ecommerce Packages are also offered at Network Solutions. Each package includes "Add-a-Store," which is a trademarked technology that makes it easy to add an online store to an existing website. Marketing tools are built right in, and that includes SEO utilities. An inventory system allows users to one-click update their products, and the store design can be changed with quality templates or your own colors and images.
Sign Up
Signing up is simple. Customers can use their free domain if it comes with their selected plan or start a plan with an existing domain name. We were able to set up our account and have a WordPress site up in under seven minutes. Others may have different results.
If you're ready to start building a website, you can jump right to the DIY- Website Builder tab where you can search for a domain. Network Solutions has over 25 years of expertise being the worlds' 1st domain registrar. If you're having a hard time finding that perfect domain, Network Solutions will help by presenting you with a list of options.
You will be offered three different packages that include a range of website builder tools. The Introductory Website Builder Plan starts at $2.95/month which includes a free domain name, professional design layouts and a do-it-yourself website builder. The Website and Online Marketing Plan starts at $3.95/month and The Website, Marketing and Store Plan starts at $4.97/month.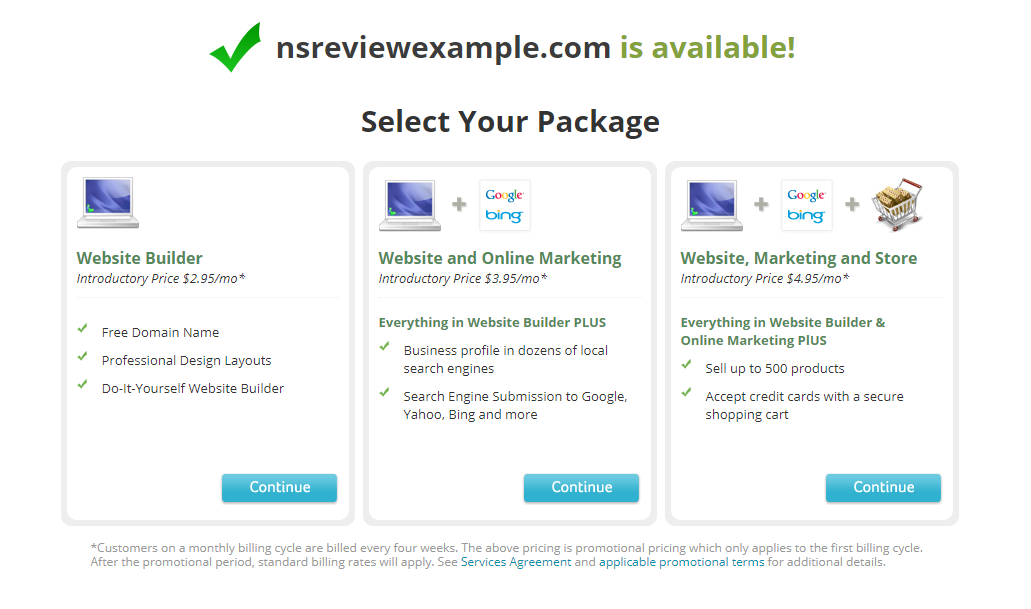 Please be aware that these are promotional offers. They are valid for initial purchase only and with domains registered with Network Solutions. Domain names with the .com, .net,, .org, .info, or .name domain extensions are included. Premium domain names, renewals and transfers are not valid. The current renewal price is $34.99/year for a .com domain name registration. Prices are subject to change as determined by Network Solutions.
Once you've made your choice, you'll be asked to create login information, followed by entering your billing information. At this time, make sure to review what's in your shopping cart before making the purchase. If something was added to your cart accidently, simply press the remove button before placing your order.
Additional add-on features include SiteLock, MyTime Support, SSL Certificate, and CodeGuard. Each of these, if not already offered within a plan, can be added for an additional cost. For example, it's often recommended that you purchase an add-on service called Private Registration which will help keep your private information out of the hands of solicitors. If purchased, you would expect to see an additional monthly fee of $1.99.
Website Builder And Control Panel
The website builder at Network Solutions is provided by the main company, which is Web.com. The control panels are different depending upon which plan is selected. Ecommerce platforms have their own control panel. Be aware that the company doesn't use cPanel. There is a proprietary control panel that is offered. Also, keep in mind that if this is an issue, cPanel can be added, but it will probably cost extra and require speaking with the technicians.
The website builder software is easy to use, and getting a site up can take very little time. Custom websites are also a service that is offered at Network Solutions through Web.com. The custom websites are designed to the customer's specifications by professional designers. One service that is offered, with a one-month free trial and $5.99 thereafter, is the mobile phone website. This service is powered by dotMobi and creates a mobile-optimized website for your business website.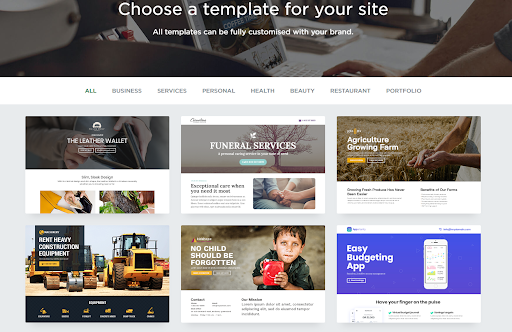 Customer Support
Support at Network Solutions is provided through phone and email. There is a response time of up to 48 hours, and a ticketing system is available. User guides and tutorials are also provided to answer most questions before having to contact the support team.
The MyTime support feature, if not already equipped with a hosting plan, is a premium service that gives 24/7 technical service through live chat and phone. The company does provide a 30-day money-back guarantee on all products except domains that follow other industry rules for returns.
Domains And Email
Domain registration is simple at Network Solutions. Prices are comparable to other companies offering these services. Most hosting plans also have a free domain name. Private registration is offered as a premium, as is domain name transfers to and from the registrar. Interestingly enough, Network Solutions is the company that came up with and patented the idea of private registration.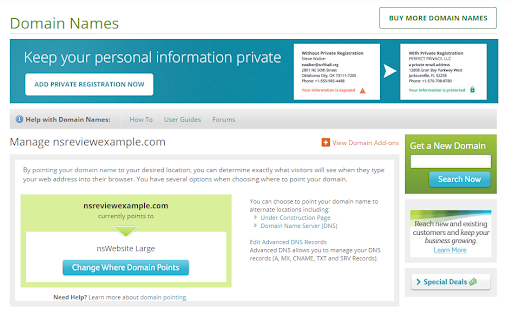 The company also provides a domain acquisition service for premium domain names. This is where offers can be made to owners of domains through a broker at Network Solutions. Expired domains and other domain services are also offered at a premium. Email hosting services are offered and are mostly attached to the existing plans. Independent of the plans, customers should contact the company with their specific email needs.