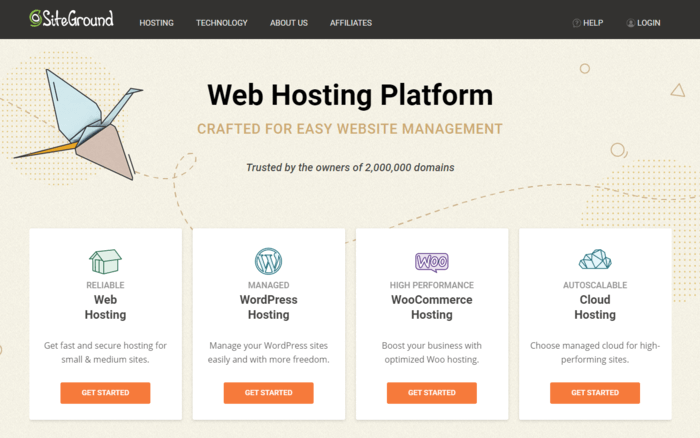 Services And Features
For fast and secured web hosting, SiteGround offer three plans. Unlike some other companies, there is no freebie plan as they focus all of their resources on their paid plans so they can provide a better service.
The Startup is the beginner's package, and it sits at $3.95/month, which is an excellent price when compared to other plans at other web hosting companies. It is the perfect plan for beginners who are hosting their first website. The Startup plan can handle a good number of visits each month (10,000) and 10 GB of web space. So even beginners will be able to get a substantial amount of visits if they go for the low-priced plan. Therefore, for those who need a website but do not know where to start, this is the perfect fit.
The GrowBig plan is the intermediate level plan that costs $5.95/month, and customers can host an unlimited number of websites with 25000 visits per month and 20 GB of webspace. It has 30 backup copies as well as all three-level of the SuperCacher. The SuperCacher helps significantly with the loading times. It also offers numerous staging environments for Joomla and WordPress.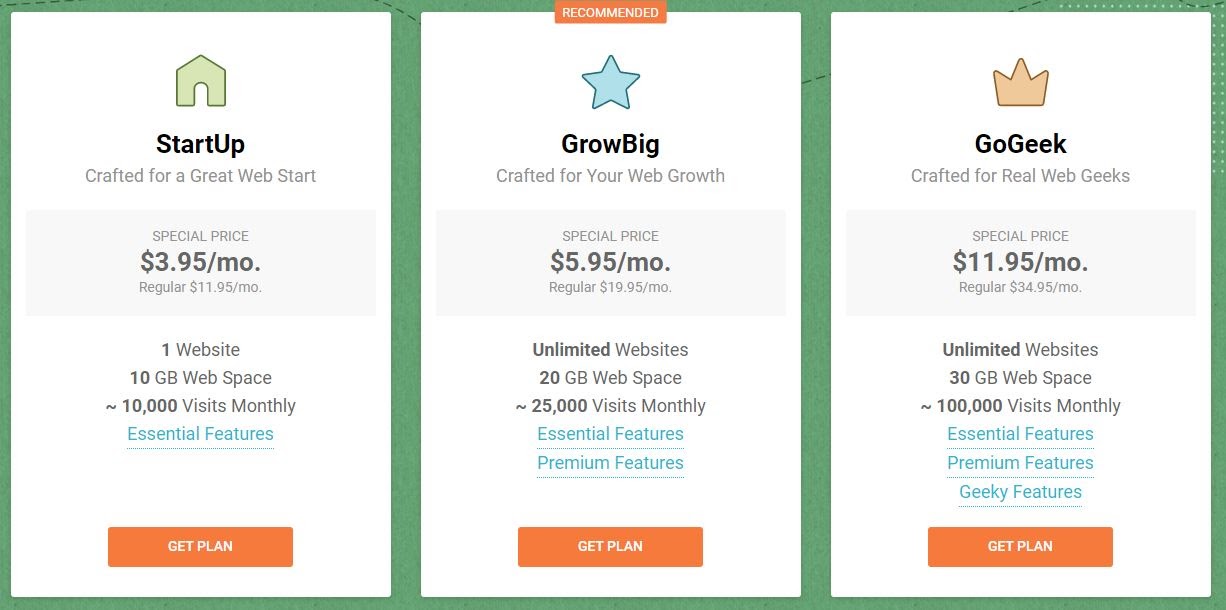 As the name implies, the GoGeek plan is the plan for the professionals and the geeks. It sits at $11.95/month, and it is worth every penny. It allows for unlimited websites, 100,000 visits per month, and 30 GB of webspace. It has all of the features of the two plans and even more with priority support, one-click GIT repo creation, White label site management, and PCI compliance. All of the plans come with 24/7 support, free email accounts, free CDN, free SSL, a free site builder, and a 30-day guarantee.
When it comes to safety, SiteGround excels with flying colors. They put security at the top of their list of priorities. SiteGround proactively takes drastic measures to protect the customers' websites from any malicious hacks or code attacks, which helps protect the customer's credibility and protect its flow of traffic.
SiteGround achieves that by maintaining a Web Application Firewall (WAF). The application will continuously be adding new security codes for the website. Every year, they add hundreds of these new custom rules. These new rules would help face any application vulnerabilities. They also develop many unique solutions, including the AI Anti-bot. This solution alone would help block millions of threats daily. Finally, SiteGround was one of the leading companies to provide each site with free SSL, as they believe in the process of making the internet a safe place for all its users.
Overall, SiteGround proudly ranks near the top of the lists of web hosting companies when it comes to speed and uptime (around 99.99%).
Sign Up
Siteground's sign up is simple and straightforward and as mentioned above, there are several affordable plans to choose from. Once you've decided on the plan for you, you must enter a domain name where you have two choices; you can register a new domain or enter the existing domain you own. An area where SiteGround don't excel is if the domain you are looking for isn't available. The alternative suggestions are minimal, if there are any at all, which isn't very helpful.
Once your domain is chosen, it is time to finalize your order by entering your billing information. Carefully read and review all information before proceeding as SiteGround gives additional options to opt-in or out of domain privacy and SG Site Scanner. Both of these options are great for your site, but they do cost an extra fee per year. Siteground offers a 30-day money-back guarantee on all purchases.
Website Builder And Control Panel
Managing and building a website can represent a challenge. SiteGround have tried and succeeded in making things as straightforward as possible by providing a great selection of 1-click solutions and tools for some of the most common tasks. Siteground offers completely free website builder tools. A membership with Siteground includes a simple to use WordPress and Weebly integration.
If you choose to build your site using Weebly you can decide on the best theme for your business of which there are multiple to choose from and test. Once a theme has been selected, there are many options for customization to choose from, but please note it is not fully customizable. You can change the title of the page, text, add images, a gallery, slideshow, map, contact form and much more!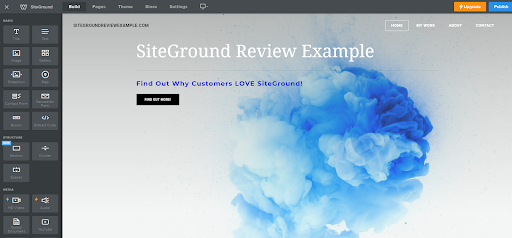 SiteGround has some amazing media integration possibilities. From the web builder, users can import HD videos, audio, and even YouTube videos. Another great feature is the ability to preview how the website will look on a mobile device as well as on a desktop.
SiteGround also has a user-friendly client area. It is where clients will have convenient and easy access to all the essential services and tools for their sites, domains, and hosting accounts and more.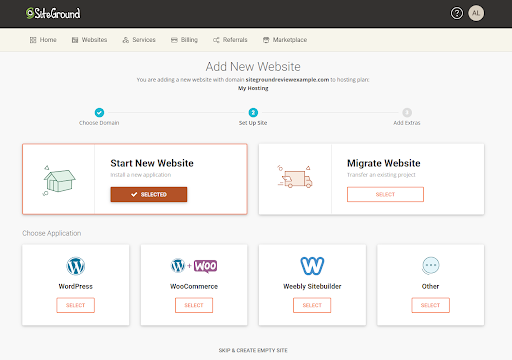 Customer Support
Customer support is an essential part of any service, as it is one of the main pillars behind the success of any company, primarily web hosting companies. Therefore, SiteGround offers its customers top-notch support. So If website owners run across any trouble or need any assistance, SiteGround provides a 24/7 support service. It is available by phone, live chat, or through a support ticket. The support team is professional and knowledgeable and will be able to help with any questions and resolve any issues the client might be facing.
The GoGeek plan users will get assigned priority when it comes to tickets and live chat. They will also gain access to the most experienced customer support agents available. It guarantees both exceptional speed and quality of the technical support service.
Domains And Email
There is no limit to the number of domains you can purchase at Siteground and they offer easy access to purchasing domains through their Hosting signup flow mentioned above. An important item to note is that you do not get a free domain with SiteGround's hosting plans unlike most other web hosts. SiteGround customers have the convenience of managing their site and domain at the same time and in the same place. The tools provided for domain management are user-friendly and have been carefully thought through. They offer domain registration with over fifty extensions, including .co.uk, .com and .net, and much more.
SiteGround offer unlimited and reliable email accounts with their hosting packages. Clients will be able to create as many email accounts that they want with their domain. They can also check these emails anywhere through the friendly webmail clients that SiteGround provides. It comes with many helpful features, including autoresponders, forwarders, and more. It is a part of all plans, including the Startup plan.