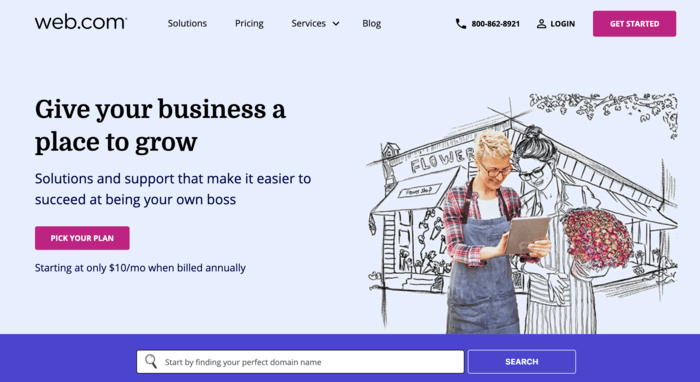 Services And Features
Web.com offers a wide variety of services and features. It is a haven for small businesses that want their own website and online store. It also provides web hosting services, domain names as well as essential marketing services. At Web.com, companies can get all that they need in one place and one cart. It is especially beneficial to business owners who are busy or overwhelmed by the idea of getting a website up and running and for those who do not know to handle the issue.
The first main service is their website building service. Web.com offers an all-in-one website solution. All of the plans offer a great discount of 45% when paid annually. There are three plans available that come with different features.

The Starter Plan: It costs $10/month after the discount ($13 before discount). It offers website building tools and all of the other features. It only includes one site, with no eCommerce or marketing features. It is perfect for a business looking to establish itself online, especially start-ups.
The Website Plan: It costs $15/month after the discount (a steep $20 before discount). It is for businesses looking to have a full website with eCommerce features, and it also supports an unlimited number of sites.
The Marketing Plan: This plan costs $15/month after the 1st year discount (an expensive $27/month before it). It has all of the above, in addition to marketing features such as SEO tools, and review and reputation tools that will help a website get the ranking it needs.
All of the plans come with email services, unlimited support, daily backups, secure SSL connections, and performance analysis tools.
The second main service that Web.com offers is web hosting. It is for clients who already have a website, and they need a hosting service. Web.com offers reliable and affordable plans. There are three plans in total.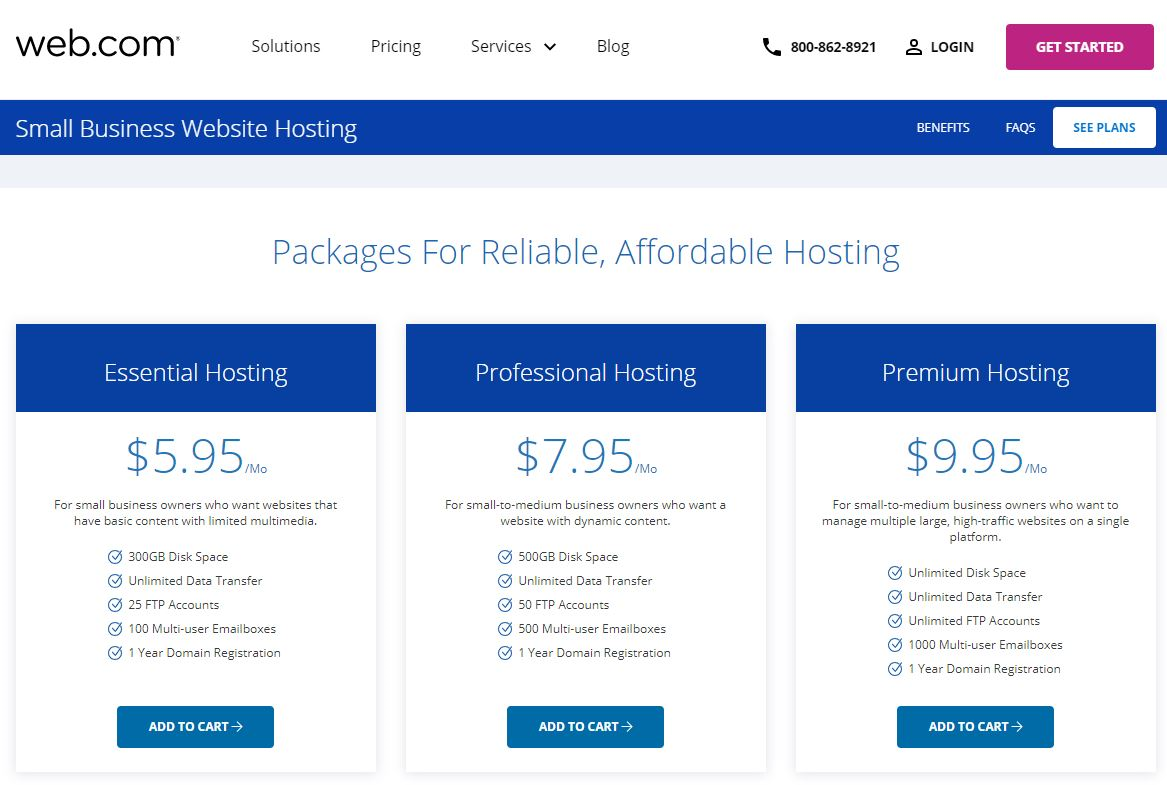 The Essential Hosting: It costs $5.95/month, which is the starter plan that targets small businesses. It offers 300GB of disk space, unlimited data transfer, and 25 FTP accounts. It also provides 100 multi-user email boxes.
Professional Hosting: It costs $7.95/month and offers 500GB of disk space, unlimited data transfer, and 50 FTP accounts. It also provides 500 multi-user email boxes.
Premium Hosting: This is the high-end of the hosting plans that cost $9.95 with unlimited data transfer, disk space, and FTP accounts. It also offers 1000 multi-user email boxes.
The price ranges for the web hosting services are quite affordable, compared to what they have to offer, especially the Essential and Professional plans.
Overall, the pricing for the different services at Web.com is affordable. The features vary significantly between the different plans, and so do the prices. The price increases for the high-end plans for the website building plans, as well as, after the 1st year discount expires which is pretty standard protocol.
Sign Up
The sign-up process is simple and hassle-free. Even for those who are not tech-savvy, they can easily follow the steps, fill up the forms, and they will have their website up and running in no time, it barely takes 5 minutes.
Web.com starts by letting the user choose the website builder plan that they need. Users will then get to pick up their one free domain name, or they can choose to use a domain name they already own. Of course, domain names are on a first-come, first-served basis, therefore, the company does not guarantee the availability of the domain when you go to their website. Also, the right for the domain is given after thirty days following the purchase and when the user issues the 2nd payment to Web.com. After the domain name selection, users will fill up their personal information and add their payment method.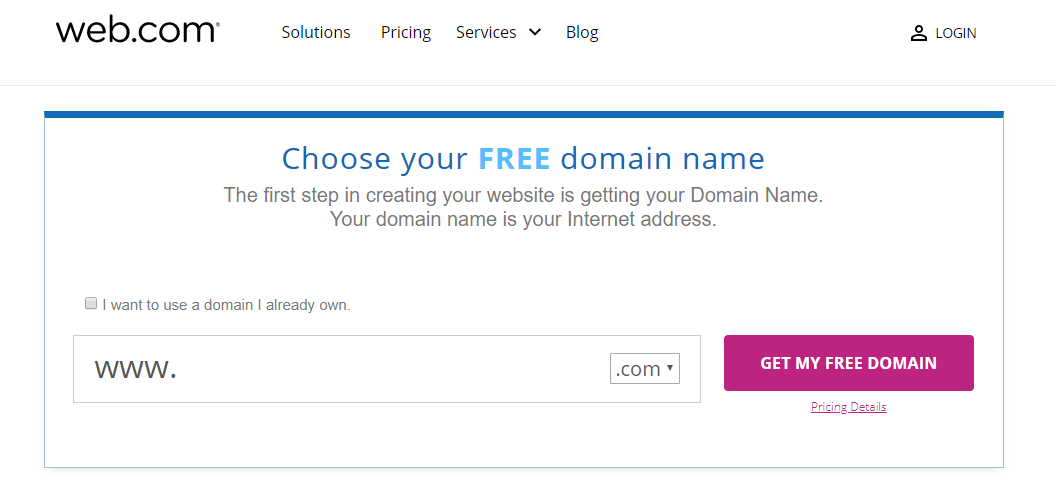 The prices that you see at the Plan Pricing at Web.com have specific criteria. The fine print states that the prices you see after the discount are only for the first year and only if you bill by the year. The $10 Starter Plan costs $13 if you pay by the month, but $120 if you get it billed annually. It's important to remember that these discounted prices do expire after a year.
Website Builder And Control Panel
Web.com has two options for its users when it comes to new websites. Users can choose to design and build their own website using the fantastic website builder tools that Web.com offers, or they can get a professionally designed website by the Web.com team.
Starting with the build-your-own-website model, while Web.com does not offer cPanel, it offers a similar website building tool. It is a Drag-and-Drop tool that is simple that anyone can use, even if they are building a website for the first time in their lives. It follows the WYSIWYG concept (What You See Is What You Get), so the sites do not have a back-end and front-end. Users can observe their website in the making while making it so there won't be any surprises when they publish the site. The builder tool also has numerous features and pre-made options and additions that will help users make their website unique and to fit their needs.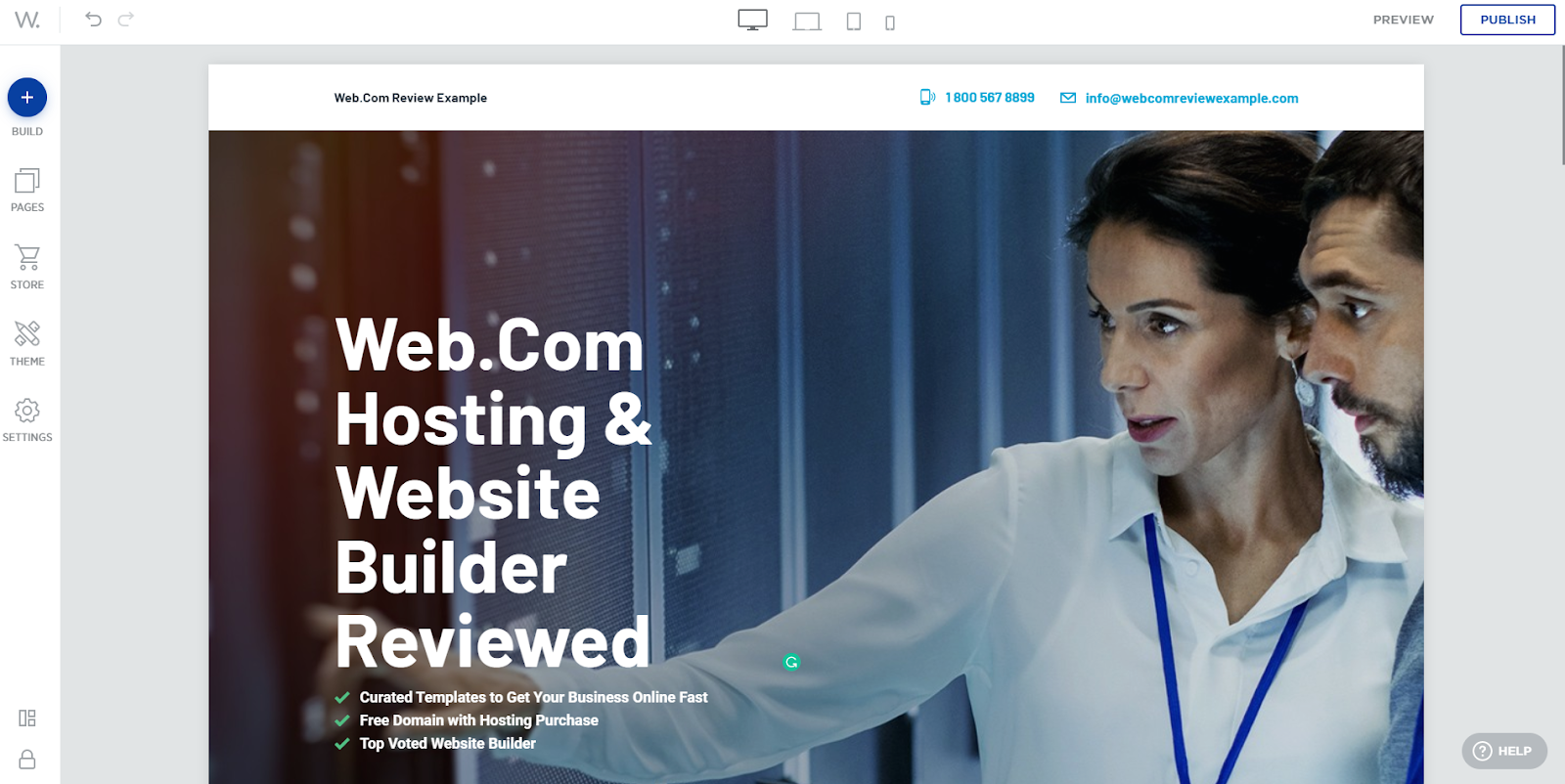 In addition to the easy control panel and template, Web.com offers a massive library of different models and templates and free images. So overall, the customer builder control panel is easy, user-friendly, and time-efficient.
On the other hand, Web.com can professionally design your website, and it boasts its selection of websites it created on its site. While there is not a pricing plan for this, you can get a quote by contacting support. For a simple website for a start-up business, with a portfolio, an About Us page, Our Team, etc. customer support quoted it at $999.95, in addition to the web hosting fees. They also take care of all of the copywriting, the content, the SEO, and everything else to result in a high-end website.
Customer Support
The quality of the customer support service is one of the cornerstones of Web.com, and it is where it shines. Web.com has a Help Center that is full of helpful articles and F.A.Q that can help users resolve whatever issue they are facing. Web.com also has pages on social media with a highly-responsive team of representatives.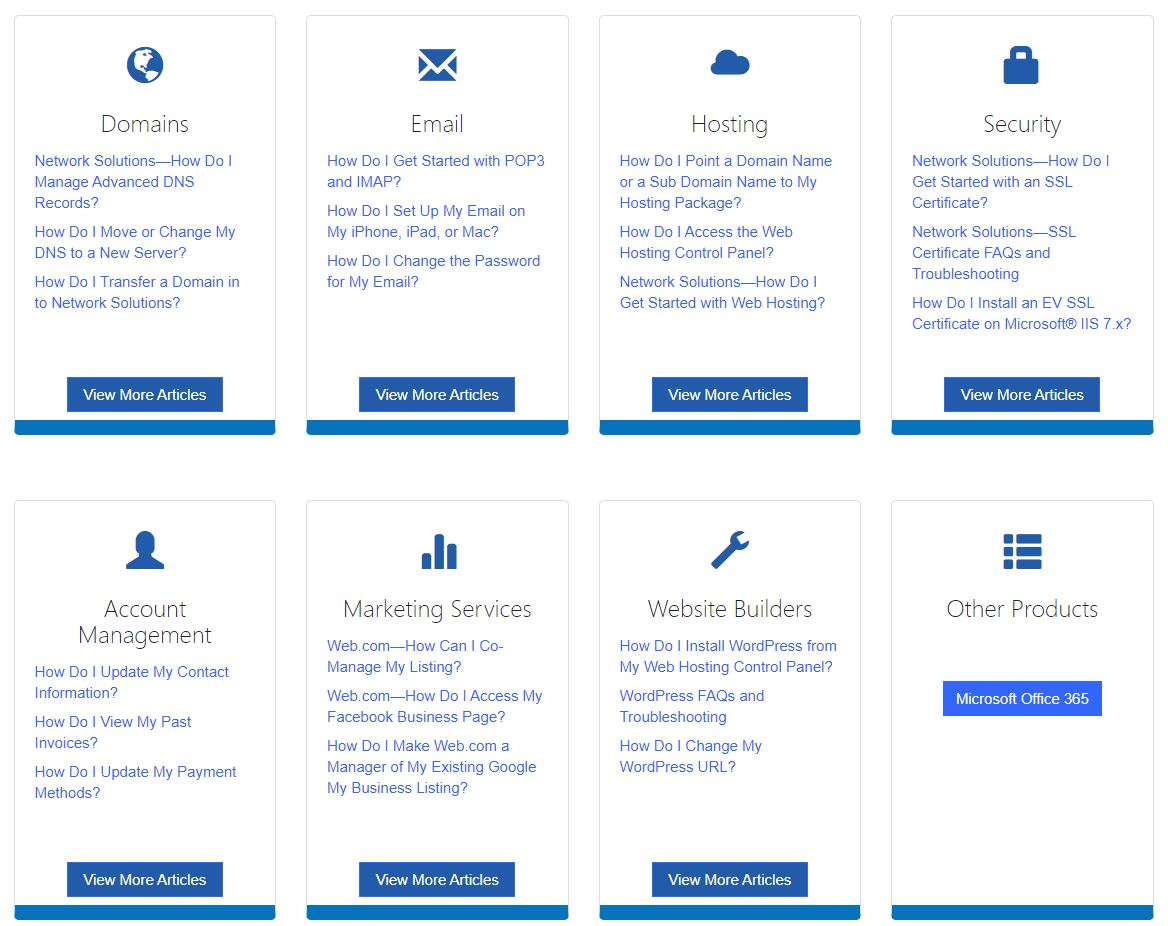 There are also many phone numbers for any queries regarding Technical Support or Sales. It also offers Live Chat support that seems to be available 24/7. The live chat team is responsive, helpful, and well-trained. Therefore, they are highly-qualified to help users with whatever problem they might be having.
Domains And Email
When it comes to Domain and Email, Web.com has got it covered. Web.com offer a free professional email with all of its web hosting plans. Having a professional email will do wonders for any business and builds its credibility. The plans include five email accounts, which are connected to the domain name. Each email will have 2 GB of storage. With email from Web.com, you get a professional email, plenty of storage and user accounts. Setting up email with Web.com is a breeze, with their email solutions, users can check their email from anywhere in the world at any time using their webmail platform.
Email is also accessible by connecting to an email account via Pop3 and IMAP. Web.com has a fantastic knowledge base, which guides its users step-by-step for setting up their email with ease. It's simple to set up on any Android, iPhone, or desktop computer. It works seamlessly with Outlook, as well.
As for domains, Web.com offers a free domain name with its 1-year plans. After the one year ends, the fee for the website will be added to the web hosting monthly fee. They make it easy to control all aspects of domain ownership and managing domains has never been more simple as you get full control of your domain. Easily purchase, renew, transfer, and update domain records, you can even manage more advanced DNS records with their simple and step-by-step process.
Web.com offers a selection of outstanding services that has everything a new business needs. The provider's main clientele is small to medium businesses that are looking to have a presence online. Web.com offers web hosting services, email, marketing, and website building. Users will get the visibility they need, eCommerce features to be able to sell their products online and get new customers, and protect their businesses and their clients. Users can do everything themselves, or they can opt-in for the professionally designed paid service that web.com has. The high-end plans might be a bit pricey, but the starter and medium packages are well within the range of small to medium businesses.